Exploring Abbotsford
This city in the country offers agricultural treats, outdoor adventure and family-friendly day trips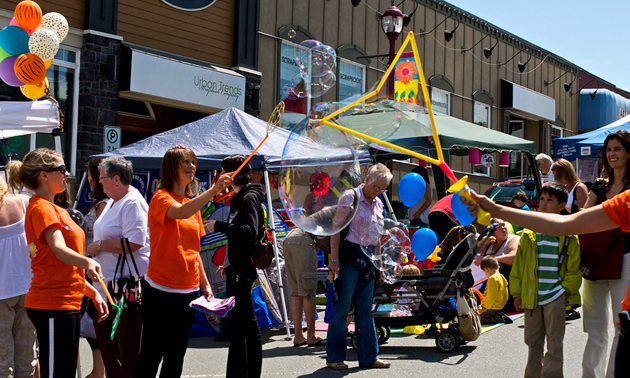 Country living meets the urban lifestyle in the Fraser Valley community of Abbotsford. This city of 130,000 has no shortage of traveller favourites like golf, skiing and a full range of water sports, making it a must-stop on any route across British Columbia.
Circle Farm Tour
Check in at a visitors centre for a Circle Farm Tour map, which takes visitors on a self-guided tour of specialty farm-gate vendors, open air markets, charming eateries, heritage sites, fairs and other special events throughout five communities in the Fraser Valley. Abbotsford's leg of the trek offers everything from antiques and organic wine to farm fresh honey and an eco-friendly dairy.
Bakerview Eco-Dairy
Take a tour through the Bakerview Eco-Dairy, Canada's first demonstration farm of its kind. Learn about innovative and sustainable dairy farm practices on the 80-acre farm that includes an interactive learning centre, animal exhibit, robotic milker, anaerobic digester, picnic grounds and market.
Abbotsford Tradex
For off-season travellers, the Fraser Valley Trade & Exhibition Centre hosts several trade shows monthly between September and May. Sportsmen shows, craft fairs and special-interest events are only the beginning.
Reach Gallery and Museum
The Reach Gallery Museum Abbotsford is the centre of cultural and creative innovation in the Fraser Valley. It offers exhibitions, special events and programming that showcases rich local history, while exhibiting the best in visual arts from both inside and outside the community.
107 Days of Summer
Want to try it all? Pick up the annual 107 Days of Summer brochure for directions to an exciting event or activity taking place each of 107 days from May to September. Take in locally made art at Karitan House on Mill Lake or take the kids to the BMX track, open daily. Visit one of the many wine and food tasting bars and don't miss the Berry Beat Festival.