A place to stop and enjoy
There are many places for RVers to enjoy in and around 100 Mile House
by Joni Krats —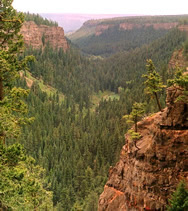 Originally the site of one of the earliest roadhouses on the Cariboo Wagon Road that serviced British Columbia's Cariboo Gold Rush, 100 Mile House continues to be a great place for travellers to settle in.
The area in and around 100 Mile House features many RV-friendly sites, ranging from Edenesque dry sites on rough roads to manicured havens suitable for class A setups with slideouts and Internet access.
Right downtown is Centennial Park, which is a day use area that features picnic tables, a playground, walking trails and the small but beautiful Bridge Creek Falls. At the south end of Centennial Park, RVers may pull in and use the dry sites that are accommodating enough for large RVs.
Adventurers in smaller, high-clearance rigs will enjoy heading out to Moose Valley Provincial Park, located on a gravel road just west of 100 Mile House. Popular with paddlers, this provincial park is festooned with a series of lakes. The recreation site has rustic camping and outhouses. There are also wilderness camping sites for those who wish to hike in and tent.
Green Lake Provincial Park has both a campground and a day use area accessible to larger units. The site is fully accessible, has drinking water, picnic area, a playground and a boat launch. A sani dump is also available. Green Lake has a specific chemical composition, which, along with its high content of algae and other micro-organisms, gives it the emerald green hue for which it is known.
Bridge Lake, Lac la Hache and Mahood Lake all provide day use areas as well as campground facilities accessible to large units. Fish species in Bridge Lake include rainbow, lake trout and burbot. Set in a Douglas fir forest, Lac la Hache is a very popular spot with more facilities including a playground. Mahood Lake, which is part of Wells Gray Provincial Park, is the largest canoe-only lake in North America.
A little trickier to navigate, Canim Beach and Ruth Lake both provide day use areas. Surrounded by beautiful mountain views, Canim Falls is located at the east end of the lake in Wells Gray Park. Birders will flock to the 100 Mile Marsh, which is in the very heart of 100 Mile House—just behind the South Cariboo Visitor Centre. During the summer months, the marsh is home to the distinctive trill of red-winged and yellow-headed blackbirds. Springtime is a great time to witness an avian stopover during the northern migration of trumpeter swans, pelicans and others. Picnic and viewing areas are available, as is a one-and-a-half-kilometre trail. The available parking is for day use only.
About 44 kilometres south of 100 Mile House is the Chasm Provincial Park, known for its layered formations of volcanic rock. This is a great stop for photographers. Although there is no overnight camping available, this park is a worthy stop.
At the highest point of Highway 97, about 22 kilometres south of 100 Mile House, is the trailhead to the Begbie Summit forestry lookout. This is indicated by a point of interest sign on the east side of the highway. There is ample day use parking with washrooms for RVs.
The entire South Cariboo is distinct for its natural beauty, varied geography, mountains and lakes. Many of these locations are historically significant.
The South Cariboo Tourism office is helpful and eager to share the beauty of their area with new friends.