Vintage RV—1970's (?) Airstream Travel Trailer: Part 2
Whether we are talking about a brand new Airstream or a vintage model, the iconic trailer has a dedicated following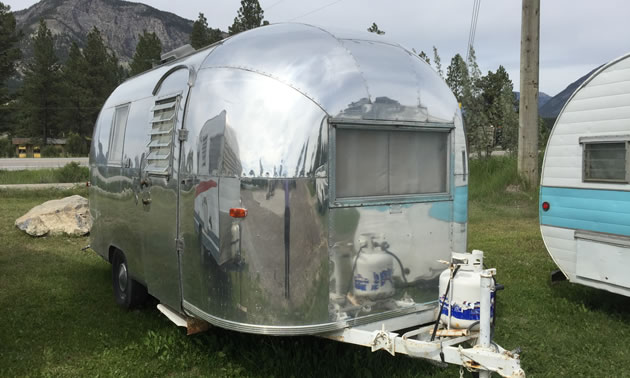 As I mentioned last week, there's an RV campground/used RV dealer situated on busy Highway 93/95 in the little community of Canal Flats, B.C., which is located in the Columbia Valley, just south of Invermere and Fairmont Hot Springs.
Here is the second of two vintage Airstream trailers that were parked out front on the lot. This model definitely had a shine to it and looked like it was ready to roll at moments notice—I am not sure of the year so I'll guess it's 1970's model.
As I also stated in last week's column, what can you say about vintage Airstream trailers that hasn't already been said? These distinctive, shiny silver classic trailers have an enthusiastic, almost cult-like following. This holds true whether we are talking about a brand new Airstream or a vintage model, like this shiny little model.
However, here's something maybe you didn't know about Airstream—"Airstream manufactures models for the European market, with smaller dimensions to accommodate narrower European roads."
Or I bet you didn't know this—"In 1981, Airstream's Commercial Vehicle Division marketed a Class A motorhome as a funeral coach. It was designed to transport family, flowers and the deceased from the funeral home to the cemetery."
According to Wikipedia here's an abridged version of Airstream's history: "The company was created by Wally Byam, a lawyer by training, who began building trailers out of Masonite in his backyard in Los Angeles during the late 1920s. Byam published a magazine selling "how-to" kits to customers wishing to build their own trailers. After helping market Hawley Bowlus' trailer, Byam acquired the struggling Bowlus Company.
In 1936, Byam introduced the "Airstream Clipper", which was essentially a rebadged 1935 Bowlus, with the door relocated from the front to the side.The design cut down on wind resistance and thus improved fuel efficiency. It was the first of the now familiar sausage-shaped, silver aluminum Airstream trailers. The first Airstream, called the "Clipper" in 1936, was named after the first trans-Atlantic seaplane. It slept four, carried its own water supply, was fitted with electric lights and cost $1,200.
Of more than 400 travel trailer builders operating in 1936, Airstream was the sole survivor of the Depression. During World War II, travel became a luxury most could not afford and non-military industries faced an acute aluminum shortage. When World War II ended, the economy boomed, and people's attention once again turned towards leisure travel. Byam's company went back into production in 1948. In July 1952, a new facility in Jackson Center, Ohio, was established. 1979 saw the last Airstreams to be manufactured in California.
In 1974, Airstream began manufacturing a Class A motorhome, badged "Argosy". They began as painted 20- and 24-foot (6.1 and 7.3 m) models, and were followed in 1979 by the first examples of the Classic model motorhome, with an unpainted aluminum body much like the trailers.
Airstream-badged Class A motorhomes began as 24- and 28-foot (7.3 and 8.5-m) models in 1979, and in the 1980s and 1990s, models ranging from 25 up to 37 feet (7.6 up to 11.2 m) were marketed. The aluminum motorhomes were followed by more traditional-looking fiberglass models in the 1990s. Airstream discontinued manufacture of Class A motorhomes in 2006. One bus model, the Skydeck, featured interior stairs leading to a deck on the roof.
Starting in 1989, Airstream built Class B motorhomes based on the Ford Econoline chassis and the Dodge B-series van chassis. Production ceased after the 1999 model year. In 2004, Airstream introduced the Westfalia and Interstate, built on the Mercedes-Benz Sprinter chassis. The Westfalia was discontinued in 2006.

Airstream, still based in Jackson Center, is a division of Thor, Inc. Airstream produces several models — Basecamp, Sport, Flying Cloud, International Signature and Serenity, Tommy Bahama, and Classic. Current trailer models size range is between 16 ft to 33 ft (4.9 to 10 m)."

Do you have a vintage Airstream story and/or photos? Share them with us at RVwest at [email protected]