What RVing means to this Alberta family
Ryan Van Orman and his wife, Nicole, love the chance to get out camping with their kids and other family and friends in places around Alberta
by Kelly Boreson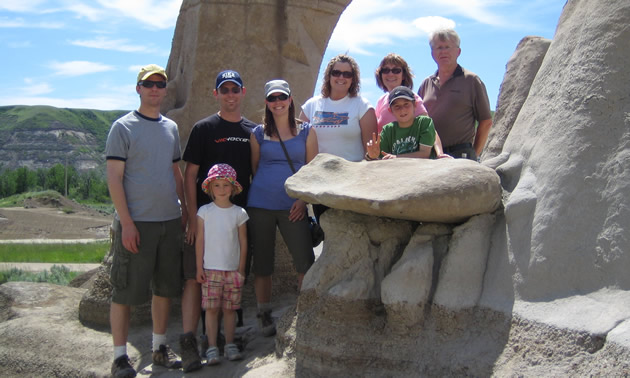 The Van Orman family can't wait to begin this year's RVing season for two reasons: the first is to introduce their newest arrival, Elise—who is currently only one month old—to camping in Alberta; the second is to give their fourth new-to-them trailer its inaugural trip.
Ryan Van Orman, the dad, said with their family expanding from four to five, he and his wife, Nicole, decided to purchase a more spacious RV to accommodate everyone including the dog. They now have a 31-foot Forest River Rockwood that has two slides. For sleeping, the unit has a flip-up bunk and a walk-around queen-size bed. Ryan said he loves that the trailer has "a ton of space inside for the kids on those not-so-nice Alberta weekends."
Planning for fun
Having a newborn, a two-year-old and a 12-year-old can be hectic on any given day, let alone trying to pack a trailer for a road trip. In previous summers, the Van Ormans have tried to get out camping about eight weekends during the season, but this year they've decided to decrease the number of trips to four and increase the number of camping days per trip to save the time and stress of packing and unpacking.
RVing for the Van Ormans is all about family. Each trip they take generally involves two to four families of close friends or extended family and consists of a lot of relaxing and enjoying each other's company. There are usually lots of kids, who have fun playing and biking together or making something with Grandma and her craft supplies.
Focusing on family time
Unplugging when they go RVing has been the norm for the Van Ormans, said Ryan; he said at night or during bad weather they rely on good fun such as talking, cards and games to keep occupied.
"(But) our new trailer has a television and DVD, so that may change this year," he said.
The Van Ormans enjoy camping because they do not plan specific activities—instead, they like to go with the flow. They find this allows them to escape real life and the weekend chores back home.
"(RVing) is a great way to focus and spend time as a family," said Ryan.
Ryan grew up going on Boy Scout backpacking excursions and tenting trips with his dad. Family vacations in general, said Ryan, were highlights for both him and his wife growing up.
"It was the family vacations we remember," he said, adding that he and Nicole want their kids to have the same strong and positive memories of family vacations and thought RVing would be one way to do this.
A favourite camping spot
For the last three years the Van Ormans have enjoyed staying at Mt. Kidd RV Park, which is located in beautiful Kananaskis Country a one-hour drive west of Calgary, Alberta. Ryan said he and his family like this RV park because there are great trails to walk and bike as well as a river to walk alongside, to skip rocks in and to splash in. A nightly interpretive program is presented—which is perfect for families. As well, there is a big field and tennis courts that the kids like to use. However, the Van Ormans' favourite amenity here is the pool.
"Mt. Kidd RV Park has something for all ages," said Ryan, "and the pool is a real big hit with the littler ones."
It's definitely worth it
Why does this family like RVing? It's a great way to spend time with family and friends, said Ryan. However, he added, anyone getting into RVing because they think it's an inexpensive way to vacation should really look at the numbers. The Van Ormans don't RV because it's cheap, he said, they RV because they enjoy the outdoors and this is what they choose to spend their time and money on.