Trip planner: Everything you need to know before RVing or camping in Revelstoke, B.C.
Check out the RVing opportunities in Revelstoke, British Columbia
A pleasant community with a wide array of outdoor adventure, Revelstoke also has unique shops, scenic campgrounds and cultural attractions. Scroll down on our Revelstoke landing page for extensive information on tourist attractions, visitor information, sani-dumps, RV dealers, campsites and more.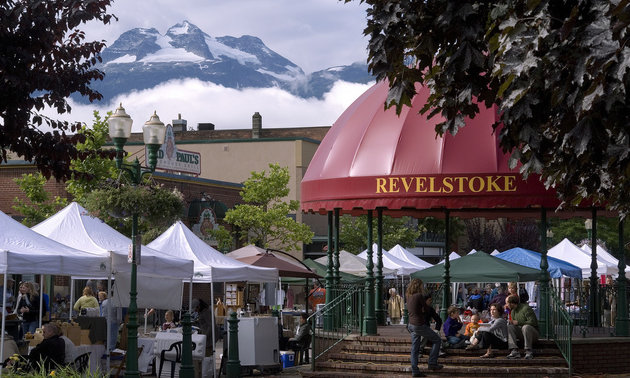 There is always something to do in Revelstoke. Choose this city as your next RV destination, and you will be delighted by the culture, outdoor recreation, shops and dining options available.
Population: 7,139
Climate: The weather in Revelstoke is ideal for camping between late spring and early fall.
Tourist information for Revelstoke, B.C.
Revelstoke Chamber of Commerce
Top attractions in Revelstoke, B.C.
Take a walk on the wild side and engage in some adventurous climbing activities in a scenic area.
Noah's Ark Resort offers the chance to go on an exhilarating amphibious argo ride.
Take the kids on a nature walk through an old-growth woodland area with folk art figurines to enrich the experience.
Three Valley Gap Heritage Ghost Town
Relive the pioneer days in an authentic heritage community.
Revelstoke is conveniently situated near two premium hot springs.
Top events and festivals in Revelstoke, B.C.
This exciting market can be found at Grizzly Plaza every Saturday from 8:30 a.m. - 1 p.m. in the summer.
This yearly festival incorporates events and activities for the whole family to enjoy.
Sanidumps in Revelstoke, B.C.
The Ol' Frontier Restaurant and Gas Station
Revelstoke Municipal Public RV Dump Station
Campgrounds and RV resorts in Revelstoke, B.C.
Williamson Lake Campground & 18 Hole Mini Golf Course
Kinbasket Lake Resort
250-344-1270
RV-Friendly Businesses Near Revelstoke