Trip planner: Everything you need to know before RVing or camping in Edmonton, AB
Check out the RVing opportunities in Edmonton, Alberta
Enjoy the plethora of fun things to see and do in Edmonton. Of course, in between recreational activities, you'll have to stop by West Edmonton Mall and do some shopping.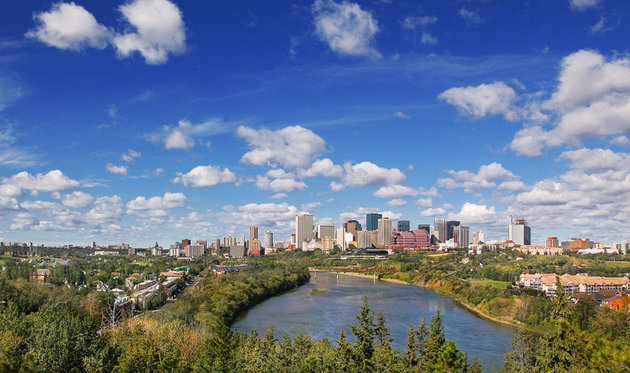 Edmonton is always abuzz with activity. There are regular musical and cultural festivals (not to mention RV shows) here, making it one of the most enjoyable places for RVers to visit.
Population: 812,200
Climate: Edmonton offers pleasantly warm weather from late spring to early fall, and this is the best time for RVing in the area.
Tourist information for Edmonton, AB
Edmonton Chamber of Commerce
City of Edmonton
Tourism Edmonton
Top attractions in Edmonton, AB
See talented performers bring new and classic plays to life before your eyes.
Aside from the multitude of stores to peruse, there is a water park, skating rink, nightlife, minigolf, marine attraction and more.
Tour the third largest aircraft collection in Canada, view relevant exhibits and take part in other educational activities.
Get up close and personal with these lovable critters, and learn about conservation and animal care.
Take a trip back in time, and see old steam engines, street cars and other historic attractions.
Top events and festivals in Edmonton, AB
The fun-loving atmosphere at the Edmonton Folk Festival makes it a popular event for all music fans. It takes place in August each year.
This high-stakes rodeo takes place in November, and is the final event of the Canadian Professional Rodeo Association season.
Sanidumps in Edmonton, AB
Gateway Park Information Centre
1-800-463-4667
Campgrounds and RV resorts in Edmonton, AB
Shakers Acres Tent and Trailer Park
Whitemud Creek Golf and RV Resort
RV-Friendly Businesses Near Edmonton