RVing and camping in Christina Lake, BC
Check out the RVing opportunities in Christina Lake, British Columbia
Bring your swimsuit, suntan lotion and water sports gear—Christina Lake awaits. With its warm water and quality beaches, this small community hits the spot for a summer holiday. You can go on a kayak trip down nearby Kettle River, explore along the Trans Canada Trail that runs through the area, and see the Cascade Gorge and other wonders. Scroll down on our Christina Lake landing page for extensive information on tourist attractions, visitor information, sani-dumps, RV dealers, campsites and more.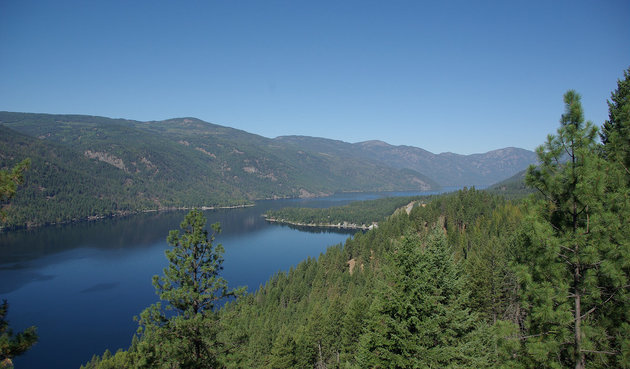 Christina Lake is a bustling art-centred community surrounded by glorious outdoor areas just waiting for you to kick back and relax.
Population: 986
Climate: Late spring to early fall brings warm weather and is the best time to RV in Christina Lake.
Tourist information
Top attractions in Christina Lake
Christina Lake Welcome & Arts Centre
This contemporary, LEED-certified centre houses a world of information and artistic expression. The building itself serves as a community hub, housing the visitor centre, art gallery, bistro and special event rooms.
Ride your bike or take a stroll along this stunning portion of the Trans Canada Trail. This portion of the trail is classified as easy, and takes in two trestle bridges with spectacular views over the Kettle Valley.
Play nine or 18 holes on this award-winning course—ranked in the top 25 in B.C.—with a centrally-located clubhouse, innovative design and lovely surroundings.
Qualified guides lead riders aged 10 and up on scenic horseback tours along the Kettle River, the Cascade Canyon and other mountain trails.
This unspoiled natural area provides many opportunities for hiking, biking and wildlife viewing.
Top events and festivals in Christina Lake
Christina Lake Homecoming Summerfest
This July beach party and community celebration is something you won't want to miss.
Running from April through September, this market features some of the best local products.
Campgrounds and RV resorts in Christina Lake
Camp Beverly Hills Motel, Cottages & RV Park Campground
RV-Friendly Businesses Near Christina Lake