Trip planner: Everything you need to know before RVing or camping in Apache Junction, AZ
Check out the RVing opportunities in Apache Junction, Arizona
Apache Junction has everything an RV camper could hope for. With its beautiful campsites and ample outdoor recreation potential, this scenic Arizona gem is a must-see.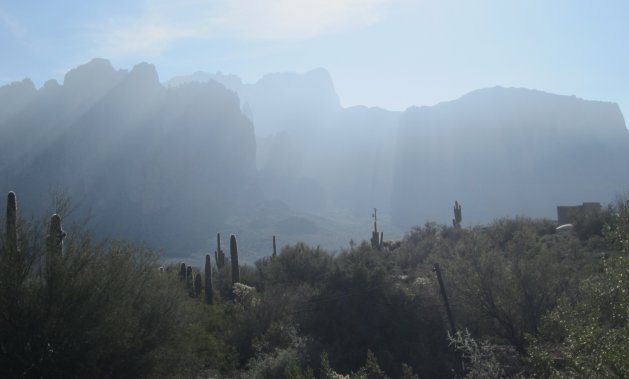 RVing in Apache Junction is ideal for snowbirds. There are plenty of nearby attractions and activities to enjoy, and you can take in the scenery during photography outings and hiking excursions. Use our handy trip planner as inspiration for your Apache Junction holiday.
Population: 35,840
Climate: Due to the hot temperatures in Arizona, the best time to RV in Apache Junction is during the fall and winter months.
Tourist information for Apache Junction, AZ
Campgrounds and RV resorts in Apache Junction, AZ
Sanidumps in Apache Junction, AZ
Top attractions in Apache Junction, AZ
There are so many things to see and do in Apache Junction, you might not know where to start. Here are a few of the top attractions in the area.
Tour the inner waterways of Canyon Lake on the Dolly Steamboat. This company offers wildlife-watching, dinner cruises and other fun tour options.
Hit the trails at this glorious state park, and experience Apache Junction's natural surroundings. There are nature walks held regularly, with education on different aspects of local flora and fauna.
See a retired mine, museum and all sorts of shops and other historic buildings, in this intriguing ghost town.
Visit Superstition's O.K. Corral Stables and set off on horseback for a tour you will never forget.
Step into the past, and see exhibits that will impress any history buff. There are also classes, lectures and events held here on a regular basis.
Top events and festivals in Apache Junction, AZ
Held annually on the last weekend in February, this event features a rodeo, carnival and vendor booths.
This festival is held each November in downtown Apache Junction. There will be live entertainment, food, a car show, kids activities, vendors, and much more.
Taking place over three days in the second week of March, this tractor show always brings a crowd of enthusiasts.
RV-Friendly Businesses Near Apache Junction