RVwest
»
Reader's Choice Awards
»
2017 Reader's Choice Awards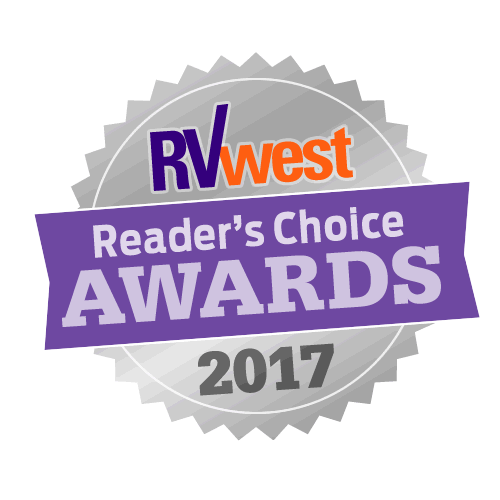 Once again, we have surveyed our readers—a keen group of RVers if ever there was one—to determine their favourites in both Canada and the United States. From destinations to dealerships, events to attractions, this list is a great starting point if you're wanting ideas for future travels.
RVers can greatly benefit from recommendations on where to buy, sell or service their RVs or where to purchase insurance.
Have you heard of the Carrot Festival in California? Been to some of the wonderful lakes in the Prairie provinces? Do you take advantage of all the great information at visitor centres?
Pursue this list of awards and start planning your next RV trip. Happy travelling!
RV Dealer (Sales) BC
PlatinumRunners RV, Cranbrook
GoldArbutus RV & Marine Sales, Nanaimo
SilverNorthern Recreation, Prince George
BronzeFraserway RV, Abbotsford
RV Dealer (Sales) AB
PlatinumWoody's RV WorldAll locations
GoldOutback RV, Sherwood Park
SilverWestern RV Country, Leduc
BronzeArrkann Trailer & RV Centre, Edmonton
RV Dealer (Sales) SK
PlatinumHappy Camper RV, Prince Albert
GoldMoose Jaw RV & Marine, Moose Jaw
SilverTRX RV, Martensville
BronzeCropper Motors , Naicam
RV Repair or Service Centre BC
PlatinumRunners RV, Cranbrook
GoldArbutus RV & Marine Sales, Nanaimo
SilverFraserway RV, Abbotsford
BronzeLeisureland RV Centre, Penticton
RV Repair or Service Centre AB
PlatinumWoody's RV WorldAll locations
GoldOutback RV, Sherwood Park
SilverAWRV Mobile, Stony Plain
BronzeSmyl RV Centre, St. Paul
RV Repair or Service Centre SK
PlatinumHappy Camper RV, Prince Albert
GoldRV Doctor, Regina
SilverCanada West RV & Truck Centre, Saskatoon
BronzeMoose Jaw RV & Marine, Moose Jaw
Favourite RV Rental Company (BC)
PlatinumTraveland RV, Langley
GoldFraserway RV, Abbotsford
SilverRunners RV, Cranbrook
Favourite RV Rental Company (AB)
PlatinumWoody's RV WorldAll locations
GoldCanada RV Rentals, Calgary
Favourite Insurance Company (BC)
PlatinumBCAA, Kamloops/Vancouver
GoldVancouver Island Insurance Center, Campbell River
SilverHub International Barton Insurance Brokers, Cranbrook
BronzeCapri Insurance, Penticton/Kelowna
Favourite Insurance Company (AB)
PlatinumEconomical Insurance, Calgary
GoldBow Valley Insurance, Calgary
SilverMorgex Insurance, Edmonton
BronzeTD Insurance Meloche Monnex , Edmonton
Favourite Privately Owned & Operated RV Park or Campground - BC
PlatinumFairmont Hot Springs RV Resort, Fairmont Hot Springs
GoldQualicum Bay Resort, Qualicum Beach
SilverHidden Valley Campground & RV Park, Canoe
Favourite Privately Owned & Operated RV Park or Campground - AB
PlatinumLily Lake Village Resort, Legal
GoldGlowing Embers RV Park, Edmonton
SilverDinosaur RV Park, Drumheller
BronzeEagle Lake RV Resort, Strathmore
Favourite Privately Owned & Operated RV Park or Campground - SK
PlatinumCampland RV Resort, Saskatoon
GoldGordon Howe Park, Saskatoon
Favourite Privately Owned & Operated RV Park or Campground - AZ
PlatinumSilver View RV Resort, Bullhead City
GoldPalm Creek Golf & RV Resort, Casa Grande
SilverLazydays KOA, Tucson
BronzeValle del Oro RV Resort, Mesa
Favourite Privately Owned & Operated RV Park or Campground - CA
PlatinumRio Bend RV & Golf Resort, El Centro
GoldGolden Shore RV Resort, Long Beach
SilverSunbeam Lake RV Resort, El Centro
Favourite Privately Owned & Operated RV Park or Campground - NV
PlatinumDuck Creek RV Park, Las Vegas
GoldOutdoor Resorts Las Vegas, Las Vegas
SilverRiverside Resort RV Park, Laughlin
Favourite Historical Site - BC
PlatinumFort Langley National Historic Site, Langley
GoldBarkerville Historic Town & Park, Barkerville
SilverFort Steele Heritage Town, Fort Steele
BronzeSteveston Village, Richmond
Favourite Historical Site - AB
PlatinumFrank Slide Interpretive Centre, Crowsnest Pass
GoldRemington Carriage Museum, Cardston
SilverHeritage Park Historical Village, Calgary
BronzeFort Edmonton Park, Edmonton
Favourite Historical Site - SK
PlatinumTunnels of Moose Jaw, Moose Jaw
GoldRCMP Heritage Centre, Regina
Favourite Historical Site - MB
PlatinumThe Forks National Historic Site, Winnipeg
Favourite Historical Site - AZ
PlatinumTown of Oatman, Oatman
GoldApache Trail, Apache Junction
SilverYuma Territorial Prison Museum & Park, Yuma
BronzeTown of Tortilla Flat, Superstition Mountains
Favourite Historical Site - CA
PlatinumThe Queen Mary, Long Beach
Favourite Historical Site - NV
PlatinumRed Rock Canyon National Conservation Area, Las Vegas
GoldValley of Fire State Park, Overton
Favourite Visitor Information Centre - BC
PlatinumYoho National Park Visitor Centre, Field
GoldParksville Visitor Centre, Parksville
SilverTourism Victoria Visitor Centre, Victoria
BronzeBritish Columbia Visitor Centre at Osoyoos, Osoyoos
Favourite Visitor Information Centre - AB
PlatinumTravel Alberta Milk River Visitor Information Centre, Milk River
GoldTravel Alberta Crowsnest Pass Visitor Information Centre, Crowsnest Pass
SilverRed Deer Visitor Information Centre, Red Deer
BronzeJasper Information Centre, Jasper
Favourite Visitor Information Centre - SK
PlatinumTourism Saskatoon, Saskatoon
Favourite Visitor Information Centre - AZ/CA/NV
PlatinumNevada Visitor Center at Mesquite, Mesquite
PlatinumYuma Visitor Information Center, Yuma
GoldMesa Temple Visitors Center, Mesa
Favourite Attraction - BC
PlatinumPacific Ocean, Vancouver
GoldFairmont Hot Springs Pool, Fairmont Hot Springs
SilverRadium Hot Springs Pool, Radium Hot Springs
BronzeFort Langley National Historic Site, Langley
Favourite Attraction - AB
PlatinumWest Edmonton Mall, Edmonton
GoldJurassic Forest, Gibbons
SilverCalaway Park, Springbank
BronzeCalgary Stampede , Calgary
Favourite Attraction - AZ
PlatinumGrand Canyon National Park, Arizona
GoldApache Trail, Mesa
Favourite Attraction - CA
PlatinumJoshua Tree National Park, Southern California
GoldRedwood Forest, Northern California
Favourite Attraction - NV
PlatinumFremont Street, Las Vegas
GoldCasinos, Las Vegas
Favourite Attraction - OTHER
PlatinumOregon Coast, Oregon
GoldLady Bird Johnson Wildflower Center, Austin, Texas
SilverBryce Canyon & Zion National Parks, Utah
Favourite Overall RV Destination - BC
PlatinumFairmont Hot Springs Pool, Fairmont Hot Springs
GoldShuswap Lake Provincial Park, Scotch Creek
SilverVancouver Island, Vancouver Island
BronzeVictoria, Victoria
Favourite Overall RV Destination - AB
PlatinumVillage of Wabamun, Wabamun
GoldTunnel Mountain, Banff
SilverSylvan Lake, Central Alberta
BronzeWaterton Lakes National Park, Southern Alberta
Favourite Overall RV Destination - AZ
PlatinumSilver View Resort, Bullhead City
GoldValle del Oro RV Resort, Mesa
SilverSaguaro National Park, Tucson
BronzeMesa Spirit RV Resort, Mesa
Favourite Overall RV Destination - CA
PlatinumCarrot Festival, Holtville
GoldRedwood Forest, Northern California
SilverGolden Shore RV Resort, Long Beach
Favourite Overall RV Destination - NV
PlatinumOutdoor Resorts Las Vegas, Las Vegas
GoldLas Vegas, Las Vegas
Favourite Lake or Waterfront Destination - BC
PlatinumOkanagan Lake, Okanagan Valley
GoldKalamalka Lake, Vernon
SilverHorne Lake, Qualicum Beach
BronzeNanaimo Lakes, Nanaimo
Favourite Lake or Waterfront Destination - AB
PlatinumWabamun Lake, Wabamun
GoldSylvan Lake, Sylvan Lake
SilverGull Lake, Central Alberta
BronzeMcLeod Lake, Whitecourt
Favourite Lake or Waterfront Destination - SK
PlatinumMeadow Lake, Meadow Lake
GoldEcho Valley Provincial Park, Fort Qu'Appelle
SilverLake Diefenbaker, Outlook
Favourite Lake or Waterfront Destination - MB
PlatinumClear Lake, Onanole/Wasagaming
GoldLake Winnipegosis, Winnipeg
SilverLake Manitoba, Southern Manitoba
Favourite Lake or Waterfront Destination - AZ
PlatinumImperial Dam, Yuma
GoldRoosevelt Lake, Phoenix
SilverSquaw Lake, Yuma
Favourite Lake or Waterfront Destination - CA
PlatinumMission Bay, San Diego
GoldPacific Ocean, Coast of California
Favourite Lake or Waterfront Destination - NV
PlatinumLaughlin Riverwalk, Laughlin
GoldDuck Creek, Las Vegas
Favourite Event or Festival You'd Like to Attend With Your RV - BC
PlatinumSunfest Country Music Festival, Duncan
GoldSidney Fall Fair, Sidney
SilverSaanich Strawberry Festival, Saanich
BronzeSouthern Gospel Music Event, Enderby
Favourite Event or Festival You'd Like to Attend With Your RV - AB
PlatinumCalgary Stampede , Calgary
GoldBig Valley Jamboree, Camrose
SilverCold Lake Air Show, Cold Lake
BronzeBlueberry Bluegrass & Country Music Society Festival, Stony Plain
Favourite Event or Festival You'd Like to Attend With Your RV - AZ
PlatinumYuma Airshow, Yuma
Favourite Event or Festival You'd Like to Attend With Your RV - CA
PlatinumNaval Air Facility El Centro Air Show, El Centro
GoldCarrot Festival, Holtville
Favourite Event or Festival You'd Like to Attend With Your RV - NV
PlatinumBike Fest, Las Vegas
GoldCasinos , Las Vegas
SilverCasinos , Laughlin
Favourite Snowbird RV Destination, RV Park or Campsite - Vancouver Island
PlatinumLiving Forest Oceanside Campground & RV Park, Nanaimo
GoldQualicum Bay, Qualicum Beach
SilverKitty Coleman Provincial Park, Courtenay
Favourite Snowbird RV Destination, RV Park or Campsite - Arizona
PlatinumSilver View RV Resort, Bullhead City
GoldValle del Oro RV Resort, Mesa
SilverCapri RV Resort, Yuma
BronzeLazydays KOA, Tucson
Favourite Snowbird RV Destination, RV Park or Campsite - California
PlatinumRio Bend RV & Golf Resort Park, El Centro
GoldSunbeam Lake RV Resort, El Centro
SilverGolden Shore RV Resort, Long Beach
BronzePalm Springs, Palm Springs
Favourite Snowbird RV Destination, RV Park or Campsite - Nevada
PlatinumThe RV Park at Circus Circus Las Vegas, Las Vegas
GoldDuck Creek, Las Vegas
SilverRiverside Resort RV Park, Laughlin
BronzeOutdoor Resorts Las Vegas, Las Vegas