RVwest
»
Reader's Choice Awards
»
2015 Reader's Choice Awards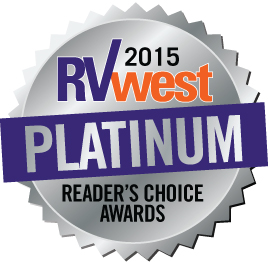 Welcome to the 2015 RVwest Reader's Choice Awards.
Once again, we have surveyed our readers, a keen group of RVers if ever there was one, to determine their favourites in both Canada and the United States. From destinations to dealerships, events to attractions, this list is a great starting point if you're wanting ideas for future travels.
Arizona, California and Nevada are perennially popular snowbirding spots, but a number of new destinations showed up on the 2015 list. Our readers have made suggestions for choice places to point your RV in states as far north as Alaska and as far south as Georgia. Montana, Utah, Oregon, Idaho and Wyoming also make an appearance on this year's list.
In Canada, Yukon in the north and the western provinces of British Columbia, Alberta, Saskatchewan and Manitoba all attract avid RVers.
Happy travelling!
View RVwest Reader's Choice winners from previous years.
RV Dealer (Sales) BC
PlatinumFraserway RVAbbotsford/Kamloops/Pentiction
GoldArbutus RV & Marine Sales Ltd.Cobble Hill/Courtenay
SilverO'Connor RVChilliwack
BronzeTraveland RVLangley
RV Dealer (Sales) AB
PlatinumWoody's RV WorldCalgary/Edmonton/Red Deer
GoldArrkann Trailer & RV CentreEdmonton South/Edmonton North
SilverCarefree Coach & RVEdmonton
BronzeHappy Trails RV Inc.Grande Prairie
RV Dealer (Sales) SK
PlatinumMoose Jaw RV & MarineMoose Jaw
GoldVillage RVRegina
SilverLardners Trailer SalesSaskatoon
RV Dealer (Sales) MB
PlatinumPortage Toyota & RV Portage la Prairie
GoldPik-A-Dilly RV CentreBrandon
RV Repair or Service Centre BC
PlatinumArbutus RV & Marine Sales Ltd.Cobble Hill/Courtenay
GoldFraserway RVAbbotsford/Kamloops/Penticton
SilverMidtown RVPenticton
BronzeVernon RV Service Ltd.Vernon
RV Repair or Service Centre AB
PlatinumWoody's RV WorldCalgary/Edmonton/Red Deer
GoldCarefree Coach & RVEdmonton
SilverBucars RV CentreBalzac
BronzeOutback RV Edmonton
RV Repair or Service Centre SK
PlatinumMoose Jaw RV & MarineMoose Jaw
GoldCanadian TireSaskatoon
SilverVillage RVRegina
RV Repair or Service Centre MB
PlatinumDedieu Auto Electric Co. Ltd.St. Claude
GoldPik-A-Dilly RV CentreBrandon
Private RV Park or Campground BC
PlatinumRadium Valley Vacation ResortRadium Hot Springs
GoldLiving Forest Oceanside Campground & RV ParkNanaimo
SilverHoliday Park Resort CommunityKelowna
BronzeCamperland RV Resort - Holiday TrailsRosedale
Private RV Park or Campground AB
PlatinumDinosaur Trail RV Resort - Holiday TrailsDrumheller
GoldBridgeview RV Resort - Holiday TrailsLethbridge
SilverGas City CampgroundMedicine Hat
BronzeLost Lemon CampgroundCrowsnest Pass
Private RV Park or Campground SK
PlatinumManitou & District Regional Park & CampgroundWatrous
GoldPrairie Oasis Tourist ComplexMoose Jaw
SilverNorthern Meadows Golf Club & RV ParkGoodsoil
BronzeLampland RV ResortSaskatoon
Private RV Park or Campground MB
PlatinumRubber Ducky Resort & CampgroundWarren
GoldTraveller's RV Resort & CampgroundWinnipeg
SilverMeadowlark Campground & RV ParkBrandon
BronzeGreen Acres CampgroundSwan River
Private RV Park or Campground AZ
PlatinumSunscape RV ResortCasa Grande
GoldMeridian RV ResortApache junction
SilverOrangewood Shadows RV ResortMesa
Private RV Park or Campground CA
PlatinumOrange Grove RV ParkBakersfield
GoldGolden Village Palms RV ResortHemet
SilverAnaheim Resort RV ParkAnaheim
BronzeRio Bend RV & Golf ResortEl Centro
Private RV Park or Campground NV
PlatinumNevada Treasure RV ResortPahrump
GoldThe Las Vegas KOA at Sam's TownHenderson
Private RV Park or Campground Other
PlatinumRocky Mountain "Hi" RV ParkKalispell, MT
SilverChicken Gold Camp & OutpostChicken, AK
GoldHailstone CampgroundHeber City, UT
BronzeSeven Feathers RV Resort/CasinoCanyonville, OR
Historical Site BC
PlatinumFort Steele Heritage TownFort Steele
GoldFort Langley National Historic SiteFort Langley
SilverThe Butchart GardensVictoria
BronzeHistoric Hat Creek RanchCache Creek
Historical Site AB
PlatinumRoyal Tyrrell MuseumDrumheller
GoldFrank Slide Interpretive CentreCrowsnest Pass
SilverUkrainian Cultural Heritage VillageTofield
BronzeReynolds-Alberta MuseumWetaskiwin
Historical Site SK
PlatinumA Touch of Europe on the PrairiesGravelbourg
GoldRCMP Heritage CentreRegina
SilverForestry Farm Park ZooSaskatoon
BronzeFort Walsh National Historic SiteMaple Creek
Historical Site AZ
PlatinumGrand Canyon National ParkArizona
GoldMy Mystery CastlePhoenix
SilverMontezuma Castle National MonumentCamp Verde
Historical Site CA
PlatinumRedwood National & State ParksCrescent City
GoldHeart CastleSan Simeon
SilverGovernor's Mansion State Historic ParkSacramento
Historical Site NV
PlatinumHoover DamBoulder City
GoldLost City MuseumOverton
SilverVirginia CityVirginia City
Visitor Information Centre BC
PlatinumTourism Victoria Visitor CentreVictoria
GoldBC Visitor Centre @ OsoyoosOsoyoos
SilverBC Vistior Centre @ GoldenGolden
BronzeCranbrook Visitor CentreCranbrook
Visitor Information Centre AB
PlatinumBanff Visitor Information CentreBanff
GoldDrumheller Visitor InformationDrumheller
SilverMedicine Hat Visitor Information CentreMedicine Hat
BronzeCrowsnest Pass Visitor Information CentreCrowsnest Pass
Visitor Information Centre SK
PlatinumPrince Albert Tourism & MarketingPrince Albert
GoldMeadow Lake Provincial Park Visitor CentreMeadow Lake
SilverTourism Saskatoon Visitor CentreSaskatoon
Visitor Information Centre MB
PlatinumBrandon Riverbank Discovery CentreBrandon
GoldTravel Manitoba Visitor Information CentreWinnipeg
Visitor Information Centre AZ/CA
PlatinumGrand Canyon Visitor CenterSouth Rim, Grand Canyon, AZ
GoldPalm Springs Visitors CenterPalm Springs, CA
SilverGreater Casa Grande Chamber of CommerceCasa Grande, AZ
BronzeLake Havasu City Visitor Information CenterLake Havasu City, AZ
Visitor Information Centre Other
PlatinumDawson City Visitor Information CentreDawson City, YT
GoldJackson Hole & Greater Yellowstone Visitor CenterJackson Hole, WY
SilverTwin Falls Visitor CenterTwin Falls, ID
Favourite Attraction BC
PlatinumThe Butchart GardensVictoria
GoldFairmont Hot SpringsFairmont Hot Springs
SilverThe Enchanted Forest/Three Valley GapRevelstoke
BronzeCanyon Hot SpringsRvelstoke
Favourite Attraction AB
PlatinumCalaway ParkCalgary
GoldRoyal Tyrrell MuseumDrumheller
SilverBig Valley JamboreeCamrose
BronzeCalgary StampedeCalgary
Favourite Attraction MB/SK
PlatinumTunnels of Moose JawMoose Jaw, SK
GoldPolar Bear ToursChurchill, MB
SilverCandle Lake Provincial ParkCandle Lake, SK
Favourite Attraction AZ/CA/NV
PlatinumDisneylandAnaheim, CA
GoldThe Grand CanyonArizona
SilverPhoenix International RacewayPhoenix, AZ
BronzeFremont StreetLas Vegas, NV
Favourite Attraction Other
PlatinumDawson CityDawson City, YT
GoldBryce Canyon National ParkUtah
SilverMissoula People's MarketMissoula, MT
Overall RV Destination BC
PlatinumRadium Valley Vacation ResortRadium Hot Springs
GoldHoliday Park ResortKelowna
SilverFairmont Hot SpringsFairmont Hot Springs
BronzeKootelay LakeKaslo
Overall RV Destination AB
PlatinumBanff National ParkBanff
GoldDrumhellerDrumheller
SilverLac la BicheLac la Biche
BronzeLac SanteTwo Hills
Overall RV Destination SK
PlatinumCarlyle Lake ResortCarlyle lake
GoldQu'Appelle ValleyQu'apelle Valley
SilverCandle LakeCandle Lake
BronzeDelburneDelburne
Overall RV Destination AZ/NV
PlatinumHoover DamBoulder City, NV
GoldCasa Grande RV Resort & CottagesCasa Grande, AZ
SilverSunscape RVCasa Grande, AZ
BronzeLauglin/Avi Casino KOALaughlin, NV
Overall RV Destination Other
PlatinumYukonYukon
GoldSeven Feathers RV Resort/CasinoCanyonville, OR
SilverLolo Square Dance Center & CampgroundLolo, MT
BronzeSavannahSavannah, GA
Overall Lake or Waterfront Destination BC
PlatinumKalamalka LakeVernon
GoldKootenay LakeKaslo
SilverOkanagan LakeKelowna/Vernon/Penticton
BronzeChristina LakeChristina Lake
Overall Lake or Waterfront Destination AB
PlatinumWaterton Lakes National ParkWaterton Park
GoldSylvan LakeSylvan Lake
SilverLesser Slake LakeSlave Lake
BronzeLac la BicheLac la Biche
Overall Lake or Waterfront Destination SK
PlatinumCarlyle Lake/Kenosee LakeSoutheast Saskatchewan
GoldGreenwater Lake Provincial ParkPorcupine Plain
SilverWaskesiu LakePrince Albert National Park
BronzePinehouse LakePinehouse
Overall Lake or Waterfront Destination MB
PlatinumLake ManitobaSouthern Manitoba
Overall Lake or Waterfront Destination AZ/CA
PlatinumLake HavasuLake Havasu City, AZ
GoldSan DiegoSan Diego, CA
SilverHumbolt LagoonsOrick, CA
Overall Lake or Waterfront Destination NV
PlatinumLake TahoeReno
GoldLake MeadLas Vegas
Festival or Event Attended with RV BC
PlatinumClassic Car Show & ShineRadium Hot Springs
GoldCreston Valley Blossom FestivalCreston
SilverInternational Hot Rod Association Pro AmAshcroft
Festival or Event Attended with RV AB
PlatinumBig Valley JamboreeCamrose
GoldUkrainian Heritage Cultural VillageElk Island National Park
SilverMOPAR Rocky Mountain NationalsEdmonton
BronzeStrathmore StampedeStrathmore
Festival or Event Attended with RV SK
PlatinumCraven Country JamboreeCraven
Festival or Event Attended with RV AZ/CA/NV
PlatinumNational Hot Rod Association RacesAZ/CA/NV
GoldHavasu Balloon FestLake Havasu City, AZ
SilverHot August Nights Classic Car Show & Drag RacesReno, NV
RV Rental Company AB/BC
PlatinumCanaDreamVarious BC locations
GoldGo West RV CentreVancouver, BC
SilverWestern RV CountryRed Deer, AB
Insurance Company BC
PlatinumCapri InsuranceKamloops/Vernon
GoldBCAALangley
SilverAviva CanadaPenticton
BronzeIsland Savings Credit UnionDuncan
Insurance Company AB
PlatinumWawanesa InsuranceBarrhead/Fairview/Leduc/Red Deer
GoldThe Co-operatorsLeduc/Stettler/Wetaskiwin
SilverIntact InsuranceCalgary
BronzeJohnson InsuranceEdmonton
Favourite pastime while RVing
PlatinumReading
GoldHiking
SilverRelaxing
BronzeFishing
RV Destination, Park or Campsite Vancouver Island
PlatinumLiving Forest Oceanside Campground & RV ParkNanaimo
GoldFort Victoria RV Park & CampgroundFort Victoria
SilverCity of NanaimoNanaimo
RV Destination, Park or Campsite Vancouver Coast
PlatinumCamperland RV Resort - Holiday TrailsRosedale
GoldAlderbrook RV ParkAldergrove
SilverWhistler RV Park & CampgroundWhistler
RV Destination, Park or Campsite AZ
PlatinumSunscape RV ResortCasa Grande
GoldWestwind RV & Golf ResortYuma
SilverOrangewood Shadows RV ResortMesa
RV Destination, Park or Campsite NV
PlatinumLaughlinLaughlin
GoldThe Las Vegas KOA at Sam's TownLas Vegas
SilverRenoReno
RV Destination, Park or Campsite CA
PlatinumGolden Village Palms RV ResortHemet
GoldPismo Coast Village RV ResortPismo Beach
SilverSan FranciscoSan Fransisco
BronzeSans EndWinterhaven
New or Innovative RV Product
PlatinumSolar Panels
GoldHolding Tank Treatments
SilverRocking Lawn Chairs
BronzeGenerators