A life of broomsticks and sunshine
Janet and Rob Schwieger travel to Arizona every year after hard-working summers in their store, North Woven Broom Co. in Crawford Bay, B.C..
by Lisa Crane —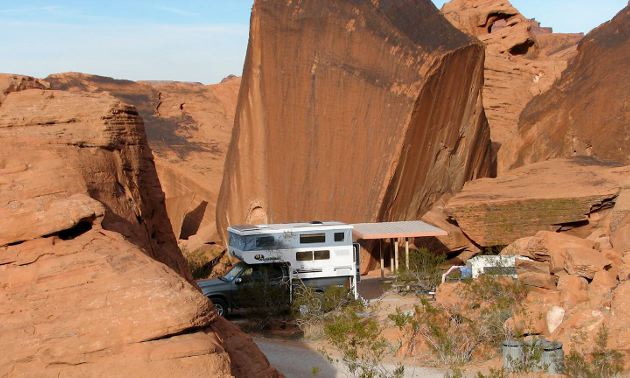 Rob and Janet Schwieger have been travelling south for 12 years, initially taking trips in January and February. When they fell in love with warm and sunny Arizona, they decided to become snowbirds; now, with a house and an RV, the couple make Arizona their home from late October until the middle of March.
The Schwiegers, who own North Woven Broom Co. in Crawford Bay, British Columbia, are in their 20th year of making handcrafted brooms. Their very busy artisan shop—famous for creatng brooms used in promotion of the Harry Potter series—is open seven days a week from April to Thanksgiving. By the time the leaves are turning, the couple are ready to get away. Their daughters, who grew up helping out in the business, have opened up their own broom shop with a friend on Granville Island in Vancouver.
Why Arizona?
The more the Schwiegers travelled in Arizona, the more they were impressed by the diversity of the land, flora, and history. Almost no snow, unlimited exploring and friendly people are all part of the attraction.
"The forest access is open to the public, unlike some sunnier states that have little public land," said Janet. "In all of the miles we have hiked during the winter, we rarely see anything to be afraid of, as critters are hibernating underground—except maybe an occasional tarantula, but they are just sunbathing on a rock."
One winter, the Schwiegers decided to rent a house in a little town called Sunsites.
"Every time we were in Sunsites, we felt like we had come home. It was a distinct feeling we had," said Janet. "We found ourselves looking at real estate and the right place came up."
Their home is a southwest-style house on an acreage just about a mile from town.
"The house came complete with two hitching posts and a saddle," said Janet. "The sunset views to the west of us are my favourite—the way the light plays on the Chiricahua Mountains is so beautiful."
The Schwiegers are avid hikers. Janet said that they enjoy day hikes in Cochise Stronghold in the Dragoon Mountains as well as in the Chiricahua Mountains to the east. Hiking the many trails there, they have discovered ancient mammoth kill and Clovis Man sites. Birding is another favourite pastime.
Things to do, people to visit
"I have made a list of 100 interesting things to see and do within an hour of our house, and more will be added this year," said Janet. "With our camper this winter, we plan on going farther afield."
She said that there is much of Arizona they haven't seen.
"We have friends in San Diego so we will explore some of California too," said Janet. "We love the ancient ruins in Chaco Canyon and the outlier pueblos."

When their daughters were younger, the Schwiegers used to travel down the coast of Oregon and Washington and loved it. When they discovered the canyons in southern Utah, they were hooked.
"They were so amazing and colourful and full of ancient ruins," said Janet. "We just kept going back."
The Schwiegers both love natural history and are intrigued by ancient pueblos. They have done a lot of exploring in west Texas, New Mexico, southern Colorado and Utah. Janet said they move out of the snow zones as soon as they can.
Although the Schwiegers don't golf, Janet said Sunsites is a beautiful treed town with a golf course that winds right through it.
"Someday we will try golfing, but for now there are so many hikes we want to do," she said.
The Schwiegers have inquiring minds and soak up the history of each place they visit. They search out museums and trails, and geocache when they can—which takes them to places off the beaten paths.
Other passions
The Schwiegers have a vintage Volvo passion, and they like getting together with others who are equally passionate. Rob has an old Volvo or two in the garage in Arizona to tinker with.
Janet said their lightweight 2007 Outfitter popup camper suits them perfectly.
"It fits nicely on our Toyota Tundra, and we can get down almost any back road and are self contained," she said. "It has solar panels that power the fridge, lights and stereo, and propane fuels the cooktop and heater."
The camper has a queen-size bed, and plenty of room for storage, and the Schwiegers appreciate the versatility and ease of a small camper.
Janet enjoys writing travelogues to a large circle of friends back in Canada, and even has a "bugster" list, where she sends photos of interesting bugs, birds or tracks to a group of friends for discussion.
The best of both worlds
The Schwiegers love their community and home on Kootenay Lake in British Columbia.
"We live in one of the most beautiful places, and during the summer season it is the best place to be," said Janet.
They envision staying up to six months in the winter in the United States and travelling around Canada for a month before or after summer.
Do they have any advice for other snowbirds?
"Keep active while you can and drive a four-wheel-drive vehicle," said Janet. "There is so much to explore up close. Don't be afraid of driving down a dirt road—unless it has rained."
The Schwiegers also recommend joining the Canadian Snowbird Association, as it provides lots of great information.