Visiting grandma
Stuff for kids to see and do in Yuma, Arizona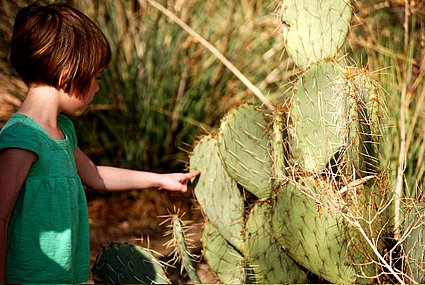 Every winter, my snowbird parents head to Yuma, Arizona, to escape Calgary's snow and cold. This year, I decided to take my five and seven-year-old daughters on an adventure to visit Grandma and Grandpa in their RV retirement community. I have to admit I was apprehensive about keeping my kids entertained during our week-long stay. The excitement of seeing the grandparents would only last for so long, and then I knew my girls would want to do something fun. We decided to find out just what there was for kids to see and do in Yuma.
Our first stop was Yuma's West Wetlands Park. One mile of what was once a landfill site along the Colorado River has been restored to its natural wetland state. The area is now home to a hummingbird garden filled with indigenous vegetation, and a burrowing owl habitat nestled along the now lush riverbank. We were lucky enough to see some hummingbirds, and I'm told that if one stands still long enough, the owls will come out too. Good luck getting little kids—who have spent several days in a trailer—to stand still.
A deluxe playground
The highlight of the Yuma West Wetlands Park, for kids at least, is the Stewart Vincent Wolfe creative playground. Designed by children and built by volunteers, this incredible play structure will keep kids busy for hours on end. Its maze of walkways, ladders, bridges and lookout points are sure to thrill. There's even a huge, covered slide that spits its rider out of a dragon's mouth at the bottom. You'll also find a kid-sized airplane, a sand area with rocks and a digger, as well as a play area specially designed for toddlers. Bring hats and sunscreen and be prepared to stay a while; it is a pretty spectacular playground.
After a hard morning of playground romping, a good lunch is a must. We found just that at Lutes Casino, an eclectic eatery located in Old Town, Yuma's historic downtown district. There's no gambling at Lutes these days, but once upon a time it was a venue for illegal gaming, and the name stuck. Lutes' colourful history lives on through the marvelous assemblage of memorabilia adorning its walls.
There are movie posters from decades past, antiques, and curiosities of all kinds. Look up and amidst the vintage bicycles and rusty red wagons you'll find a life-sized Superman exploding through the back wall. My kids were fascinated by the unique and delightfully bizarre collection of stuff on display.
The menu at Lutes will please kids of all ages too, offering classic burgers, big baskets of fries, tall glasses of icy pink lemonade, and beer for the grown-ups. The "Especial", a cheeseburger/hotdog combination, was a big hit at our table. Popular with locals and tourists alike, this historical eating-place is a must-do while in Yuma.
History comes alive
If you'd like to experience more of Yuma's history, include a visit to the Territorial Prison State Park. Several parts of the prison, which took in its first "guests" in 1876, are still standing. Visitors can walk around the old prison grounds, climb up to the watchtower and even go into some of the cells. A favourite was the "dark cell" where prisoners were sent for punishment. The kids and I had a great time playing "who can stay in the dark cell the longest"—suffice it to say, none of us are cut out for hard time!
A walk through the Territorial Prison State Park Museum is worthwhile, too. Inside one can learn about the inmates and their crimes and punishments. I took this as an opportunity to reinforce the value of good behavior. Museum- goers can even dress up as convicts and take their own mug shots using a special mirror that allows both a straight-on and profile picture to be taken at the same time.
It turns out there is plenty for kids to see and do in Yuma. We managed to easily fill our days with kid-friendly adventures, and most nights my girls were asleep before their heads hit their pillows. I need not have worried about keeping my kids entertained; we all had a terrific time. Yuma is definitely on my list of family-friendly vacation destinations.