Exploring Yuma on foot
Put on your walking shoes, and take in some of the historical and natural attractions around Yuma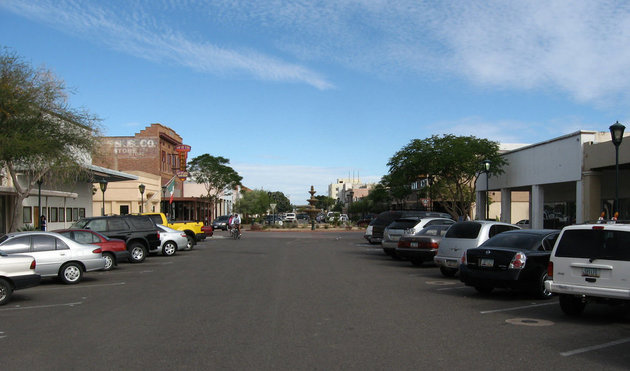 Yuma is an RV-friendly community, and there are ample opportunities to see the best of it. One relaxing way to do that during your visit is to set off on foot. Take part in a walking tour in town, or set off on a hike to see the eye-catching landscape - the choice is yours. Either way, your stay in Yuma is bound to be a welcome addition to your Arizona holiday.
Learn about local history
The Sanguinetti House Museum and Gardens is an Arizona Historical Society museum, with several tours on offer.
One of the options is the Historic Downtown Yuma Walking Tour. Experienced guide, Steve Cook, will take you down Yuma's historic downtown streets and tell you what life in Yuma was like over a hundred years ago. Tickets are $15 per person, and groups are welcome. For reservations, call 928-782-1842.
If your feet get tired, the Sanguinetti House Museum and Gardens also offers guided trolley rides. A favourite is their famous Ghost Trolley Tour, an evening excursion that takes guests to places where hauntings have been reported.
Take a walk in the desert
There are a number of hiking trails around Yuma. Palm Canyon Trail is a short route, which you can complete in about an hour. You can access this trail by taking U.S. Highway 95 (16th Street) north, and turning right onto Palm Canyon Road. Follow the dirt road east, and then turn right at the entrance to Kofa National Wildlife Refuge. Signage will lead you to the parking lot. Once you arrive, you can see a stand of California fan palms - just the beginning of all the neat flora and fauna you can witness on your walk.
The Painted Desert Trail is another one-hour hike that photographers in particular are fond of. You can get a terrific view of the Colorado River Valley, and see multi-coloured rocks created by 30,000-year-old volcanic activity. To get to the trailhead from Yuma, take U.S. Highway 95 (16th Street) north, and turn west onto Martinez Lake Road. Drive for about 16 kilometres, then turn right onto Red Cloud Mine Road, continuing until you reach the visitor centre. If you head into the centre, you can pick up maps and information about the trail before heading out.