Going north? Here's what you need to know before taking an RV adventure to the Great White North
This couple plans to rent an RV for a month-long trip
by Virginia Rasch —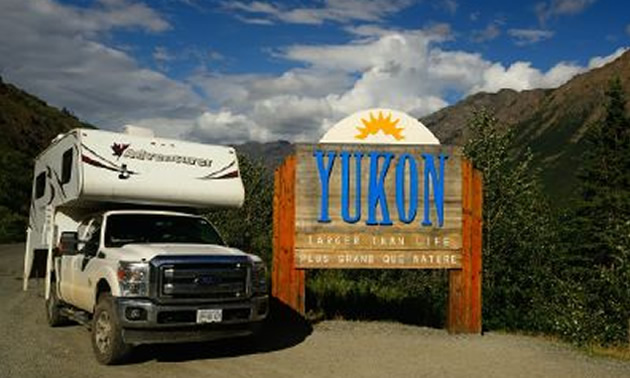 Many RVers dream of taking that big trip to the North—the far North! Some folks make it there and others keep dreaming.
One couple is making definite plans for their 2019 Great White North Adventure.
Stephanie and Heri live in the Bernese Oberland area of Switzerland. She is the niece of our RVwest columnist Elizabeth James.
"After talking to friends who have just arrived home, we want to go up to Yukon," said Stephanie. "That definitely means renting an RV—and we still want to do the Inside Passage."
The couple wants to rent an RV for the month of June 2019. Stephanie wrote her aunt and asked "to borrow camping chairs, table, maybe a bit of kitchen equipment, sleeping bag, etc.?"
"I was at a loss as to why they would need more of the equipment already provided in a well-equipped RV," said James, "and so began a lesson I should have learned before writing my recent article on renting an RV."
"That's because, as it turns out, many Canadian RV rental companies require the traveller to add one or more top-up packages to their booking if they need equipment like bedding, a kitchen with linens, coffeemaker, dishes, and pots and pans. The same applies to towels for the bathroom."
Important details for first-time RV renters
Auntie Elizabeth has two other important items for her Swiss relatives (and other RVers) to consider. There may be a ferry crossing or a Canada/USA border crossing along their route.
"It is essential to know whether the ferry can accommodate the height and width of your RV unit—yours or a rental," said James.
"Second, even though a border crossing may be a tiny whistle-stop, you need to know their hours of operation, carry all the paperwork you can and, especially for RVers, make sure you are aware of the food stuffs and souvenirs you will be allowed to take from one jurisdiction to another.
"Having all your Canada geese in a row, so to speak, is your best guarantee of having a happy, anxiety-free vacation," said James.