A recreational playground
With a landscape comprised solely of mountains, rivers and lakes, Whitehorse is prime territory for outdoor activities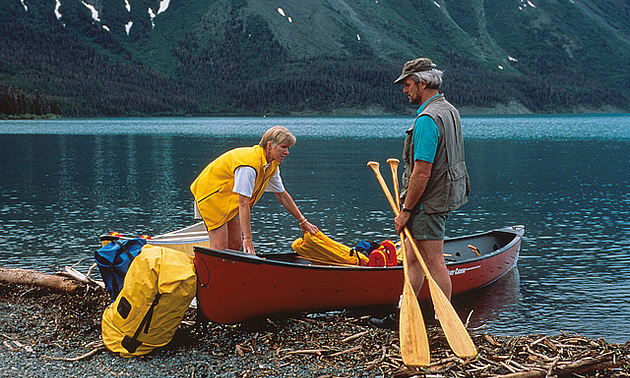 There are so many ways to get active and enjoy the outdoors in Whitehorse, it would take a lifetime worth of visits to fit it all in. But if you're looking for the highlights, Yukon tourism marketing manager, Jim Kemshead, says the best of the best can be found by looking for those experiences that are unique to the North.
"There's so much, the first thing I would do is direct people to our website," said Kemshead. "It has a list of all the calendar events going on, and a list of all the operators who (are) based out of Whitehorse, which is substantial."
While the area has more than 5,000 kilometres of highways—connecting you to every community and attraction the Yukon has to offer—with all there is to do in Whitehorse, you may never want to leave.
One of the most intriguing opportunities is the chance to take a ride with, or even guide, your own team of sled dogs. While most tour operators do not run their dogs during the summer, most do allow you to tour the kennels up close even in the warmer seasons. You can learn all about dogsledding, enjoy a northern fare barbecue with elk, Arctic char, bison and caribou on the menu, and join trainers as they exercise and walk the dogs along the Tatshenshini and Yukon Rivers.
While you may miss out on the full dogsled experience by travelling during the warmer months, travelling during the summer does have its benefits. Not only do you experience the tremendous warmth and sunshine that the Yukon has to offer, you also get to experience it under the midnight sun, right into the wee hours of the morning. Whether you hike, bike, horseback ride, ATV, canoe or kayak, it will all seem that much more magical when you take advantage of the long-lasting daylight.
Air, water and earth
With so much water to explore in the lakes and rivers that surround Whitehorse, including in Kluane National Park just an hour away, there are many ways to experience it. From jet boats, barges and zodiacs, to canoes or kayaks, you can choose from a number of different excursions. Rent canoes or kayaks for a peaceful paddle on a quiet lake, view scenery and wildlife on a guided tour, join in on a backwoods fishing excursion or feel the heart-pounding adrenalin rush of whitewater rafting.
For those who would prefer a slightly different vantage point, Whitehorse also offers flightseeing tours that give a bird's-eye view of the natural wonders of the Yukon. See the beauty of a glacier from the air, or feel the soft water landing of a float plane as it lands in a remote location to allow you to walk where pioneers once lived. For those looking to take a walk on the wild side, a number of tour operators also offer heli-hiking experiences that will bring you to the tops of wildflower-covered alpine plateaus.
No trip to the Yukon would be complete without joining in on the fun that started the Klondike Gold Rush and created communities like Whitehorse and many others. Whether you choose to join an excursion, or head out and purchase your own gold pan and how-to manual, you will be set for hours of gold rush fun.