A tasting tour of Whistler is a fine way to sample some made-in-B.C. food and drink
Five places with unique tastes are on the tour
by Sandra Albers —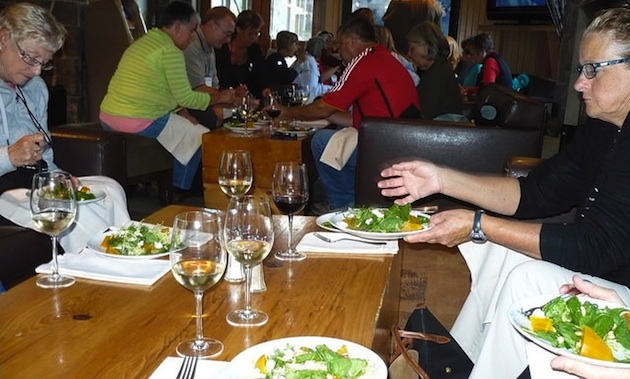 Whistler, 120 kilometres up the coast from Vancouver, is world-renowned for its outdoor recreational activities, whether that be skiing and snowboarding in the winter or hiking and mountain biking in the summer.
Not surprisingly, all that outdoor activity is bound to work up an appetite. And that's where the many fine restaurants and pubs in Whistler come into play.
On a recent visit to Whistler, I took in one of the tasting tours that are on offer. There are a number of different tours to choose from. The one I joined included stops at five establishments and started around noon.
Mojitas
By 12:15 p.m., we were learning how to make mojitos, the cocktail that originated in Cuba, with the assistance of the friendly bartender at Stonesedge. Naturally, we had to sample the results of this mixture of white rum, mint leaves, lime juice, ginger liqueur, sugar, water and soda.
Not much wrong with that!
I suspect not every tour starts with a drink to whet the appetite, but it worked for our group.
Soup and sandwich
Next stop was Palmer's Gallery Bar & Grill at the Whistler Golf Club. We enjoyed proper lunch fare there—an earthy mushroom soup and a basic but well-prepared ham, cheese and tomato sandwich.
Oh, and we washed it down with a glass of Buck's ale from a Vancouver Island craft brewery.
Not much wrong with that, either. (Non-alcoholic beverages are available too.)
Chocolate
Our third stop was Rogers' Chocolates, Canada's oldest chocolatier, where we were treated to a bit of a history lesson as well as, of course, chocolates.
The original Rogers' Chocolates opened in Victoria, B.C., in 1885, when one Charles William Rogers came west seeking his fortune during the gold rush. Instead of gold, he discovered that he could make more money selling candies and other provisions to the miners.
Rogers' Chocolates still sells the first five chocolates that Charles developed with the help of his wife, Leah, according to our tour guide. And the original store is still in place on Government Street in downtown Victoria.
As for our Whistler tour group, we taste-tested the ice-wine truffle, a chocolate infused with British Columbia ice wine. Delicious!
Since one can never have too much chocolate, our fourth stop was the Rocky Mountain Chocolate Company, where we sampled a yummy, freshly made maple walnut fudge.
Local B.C. wine
Our final stop was at the Westin Hotel's FireRock Lounge, where we were served a lovely golden beet salad, consisting of greens, almonds, yellow beets and goat cheese. (OK, we may have had a glass of Pinot Gris white wine, too.)
The emphasis on these tasting tours is on showcasing locally sourced ingredients and made-in-B.C. beers and wines.
All the restaurants on the tours are within walking distance of one another; comfortable walking shoes are advised. Depending on the tours, restaurants and brewhouses may vary from the ones I've mentioned.
Other tours include a desserts-only tasting tour; there are evening dinner tours as well as the lunchtime options; and there are tours that cater to families. Prices range from $49.99 to $114.99 per person.
Generally, a minimum of six people is required for a tour; but there are self-guided versions available too.
If you're travelling from Vancouver, Whistler is a lovely drive north on the stunning Sea to Sky Highway. Allow about two hours driving time, since it's a fairly twisty highway.