The food festivals of Vancouver
This city has a huge helping of flavourful festivals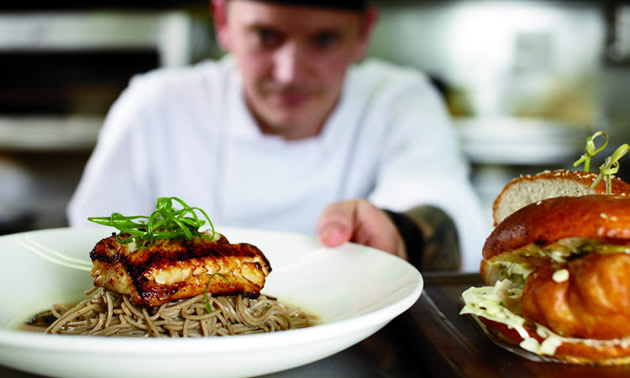 Vancouver has a multitude of flavour-filled festivals to enjoy throughout the year. Each festival is unique in flavour and feel, so here are the details on what Vancouver has cooking.
January to February
Dine Out Vancouver takes place in January and lasts for 17 days. It's Canada's largest food and drink festival that includes everything from food trucks to four-star restaurants and wineries. Each participating venue sets signature dishes at a fixed rate, giving everyone an opportunity to experience different local and exotic cuisine. Hundreds of chefs and over 200 local restaurants take part in the celebration annually. Dine Out turns a usually slow time of year into a bustling 17-day feast of delectable flavour.
Vancouver Hot Chocolate Festival is the place to find 75 different flavours of hot chocolate. The festival runs from late January until mid-February. Participating cafes, chocolate shops, restaurants and more serve up their own specialty concoctions–elevating this sweet drink to the highest notch.
Vancouver International Wine Festival takes place in February every year. Local breweries take part, serving their signature wines with local dishes. The festival has 50 different events to attend during its few days, including brunches, lunches, seminars, tastings and minglers. Over 550 kinds of wine are served over the course of this wine extravaganza.
May to September
The Spot Prawn Festival in May is where you can buy live spot prawns right off the local fishing boats. Cooking demos and a general celebration of Vancouver's local delicacy bring in visitors from all over. Restaurants across the Lower Mainland take part by incorporating spot prawns into their signature dishes. Games and festivities for the whole family will be happening the day of the event.
Shipyards Night Market runs from May to September and includes over 100 local vendors selling food and locally made products. Every Friday between 5 and 10 p.m., the market features live music and a beer garden (serving up locally crafted beers and spirits).
Italian Day, in early June, celebrates over 70 years of Italian heritage in Vancouver. Two years ago, the city renamed the area of Commercial Drive where the celebration takes place as "Little Italy." Over 200,000 people come to the event yearly, with more than 120 local vendors and restaurants getting involved. Get ready to be transported to Italy through sight, sound and taste.
Greek Day, usually near the end of June, celebrates the large population of people with Greek heritage living in the Vancouver area. The event is filled with music, dancing, family activities and, of course, authentic Greek food.
October to November
This is UBC Apple Festival's 27th year. It takes place in October right when more than 60 kinds of apples are ready to be picked in the Vancouver area. Visitors can enjoy the fruit as candy apples, apple chips, apple pies and freshly picked at the apple-tasting tent. There will be apple trees and bags of apples for sale. The event is a fundraiser for the university's botanical gardens.
Vancouver's Christmas Market is a German spectacle of traditional treats. About 75 authentic huts will be set up, serving up Old-World flavours like mulled wine, German beer, and sweet and savoury baked goods. This is the best place to find holiday delicacies and stocking stuffers.
Don't forget farmers markets
The Vancouver Farmers Market runs all summer long. From April to October, markets can be found throughout the city. Most happen on Saturdays and Sundays, with the occasional market happening on Wednesday and Thursday. The markets welcome 450,000 visitors annually. If you make these markets part of your next trip to Vancouver, be prepared for the massive feast of flavours from the local food trucks, local bakeries and local confectionaries that make their weekly appearances.
To learn more about Vancouver's local festivals of flavour, visit the city's food tours' website.