Old Tucson Studios features Hollywood magic in the Old Western genre
Visit the sets for famous Old Western movies and television shows
by Jena Jones —
There's a little Hollywood magic tucked away deep in the Arizona desert, where the charm of Old Tucson Studios puts you right in the middle of a rowdy gunslinger street fight. You can almost hear John Wayne's voice, see the steam from an old locomotive and detect the lingering scent of danger and old gunpowder.
Old Tucson is a charming and historical attraction that is hidden among the saguaros just west of Tucson, Arizona. It's not only a popular tourist attraction, it's a fully functional movie studio that has been the location for more than 300 films and television shows since 1939.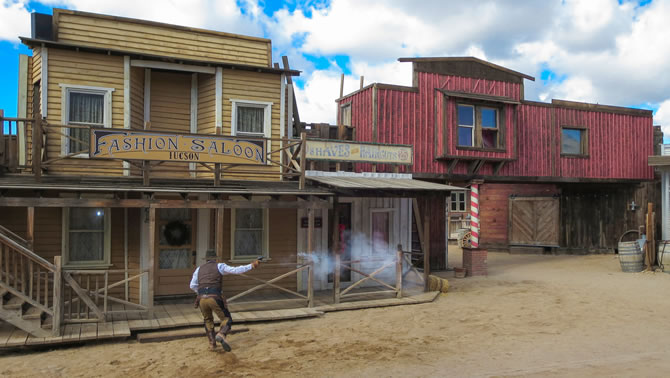 Old western fans will recognize the shoot-out location from the movie Gunfight at the O.K. Corral, which just so happens to be the same shoot-out location used in the movie Rio Bravo, with John Wayne. John Wayne went on to star in four other movies filmed at Old Tucson Studios, including McLintock!, Rio Lobo and El Dorado. The remote location didn't just attract movie productions, it was also the ideal location for long-running television series such as Little House on the Prairie, High Chaparral and Three Amigos.
Although it's a filmmaker's dream, Old Tucson Studios opened as an attraction to the public in 1960. For 55 years, the studio has been dazzling all ages with movie nostalgia, interactive gunfights, authentic stagecoach rides, mine exploration, trail rides and historical tours. The tours are perfect for a true history buff and include pioneers of Arizona, western history and Native American history.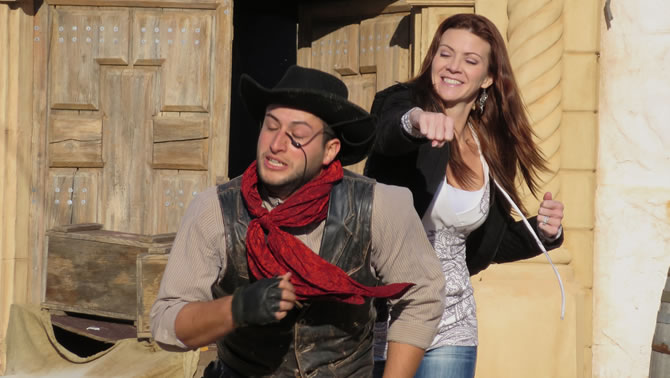 Old Tucson was one of the most anticipated stops on our visit to Arizona and was a perfect destination for our little adventurous family. Being selected from the audience to participate in a live stunt show was a highlight. From the authentically bumpy stagecoach ride to walking in the footprints of western legends, I couldn't help but feel sucked into the Old West era. The costumes, gunfights, behind-the-scenes movie magic and historical charm make for an engaging and unforgettable experience.
Old Tucson is Hollywood glamour disguised in the form of a dusty Old Western town full of scoundrels and saloon girls, yet perfectly preserved amid the harsh climate conditions of southern Arizona. It is must-see on your next Southwest adventure.