Top things to see and do in Tombstone
Get into the Wild West spirit in this history-filled Arizona community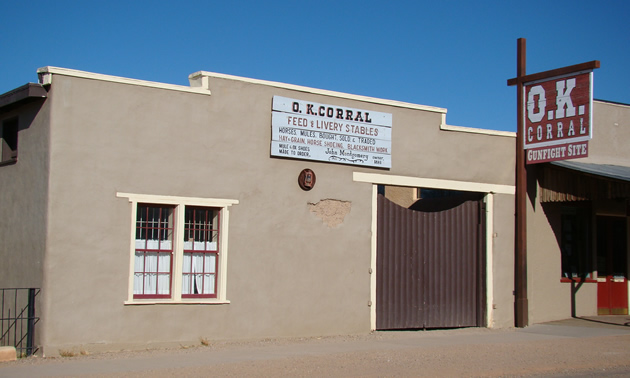 Once a frontier mining town, Tombstone has been home to the legendary Earp brothers and the site of several famous Western movies. Here are some of the classic attractions you won't want to miss.
1) The O.K. Corral
The O.K. Corral is known as the world's most famous gunfight site, and you can tour the grounds to see why. Daily re-enactments are performed and there are tons of photos, life-sized figures and multimedia presentations to pique your interest.
2) The Bird Cage Theatre
If you're interested in something a little darker, check out the Bird Cage Theatre. Once a legendary nightlife venue, this heritage saloon has seen its share of dramatic events. It has a reputation for being haunted, and ghost tours are available for those with a passion for the paranormal.
3) The Lozen Gallery
The Lozen Gallery has great historical significance, and the land it occupies was once the site of a brutal battle between the U.S. cavalry and the Apache people. Take a tour and learn more about this tumultuous area.
4) The Good Enough Mine Underground Tour
Take a guided tour of the restored Good Enough Mine and find out more about its unique origins and how it was discovered by the town founder.
5) Vigilante Days
The Tombstone Vigilantes host their annual Vigilante Days in August. Come down to enjoy a chili cook-off, raffles and a constant stream of street entertainment that will keep you fascinated the entire time.