Top things to see and do in Swift Current
A friendly town with a lot to offer, Swift Current has what you're looking for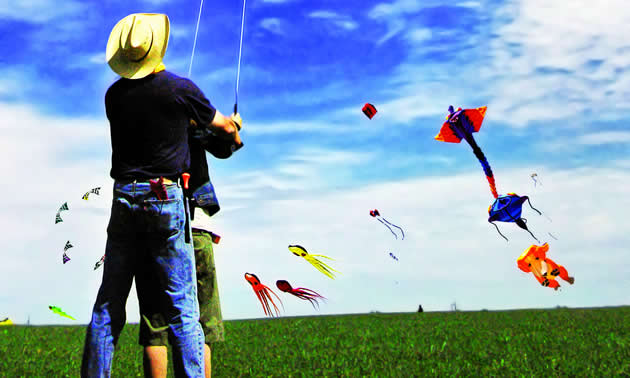 Swift Current welcomes visitors with a considerable selection of recreation and leisure activities. We chose five of the most enticing things to see and do there.
1) Windscape Kite Festival
The Windscape Kite Festival is legendary in Swift Current. Look to the sky to see gigantic kites in all shapes and sizes—the designs get more creative every year. There are other activities on site as well, such as kite workshops, balloon sculpting and a variety of entertainers.
2) Frontier Days
Another well-attended event is Frontier Days, which has been held in Swift Current every year since 1938. The festivities include one of the biggest CCA rodeos in Saskatchewan, as well as midway rides, concerts, 4-H competitions and horse and cattle shows.
3) Grasslands National Park
Be sure to take a drive out to Grasslands National Park. Here you can see ancient teepee rings, dinosaur fossils and wildlife that can not be found anywhere else in Canada. Geocaching, hiking, birdwatching and camping are just a few of the many activities you can enjoy there.
4) Great Sandhills and River Routes
A tourism region near Swift Current, Great Sandhills and River Routes encompasses a large area of prairie landscape that boasts wildlife viewing opportunities, artisans and shops, and historical points of interest.
5) Chinook Parkway
Considered a prime route for walking, jogging, birdwatching and cycling, Chinook Parkway will take you along scenic Swift Current Creek. Take time to pause and observe the native wildflowers and waterfowl that call this area home.