The Park to go if you are a hiker and lover of desert terrain
Back-to-back days hiking in Anza Borrego Desert State Park in southern California
by Mary Taylor —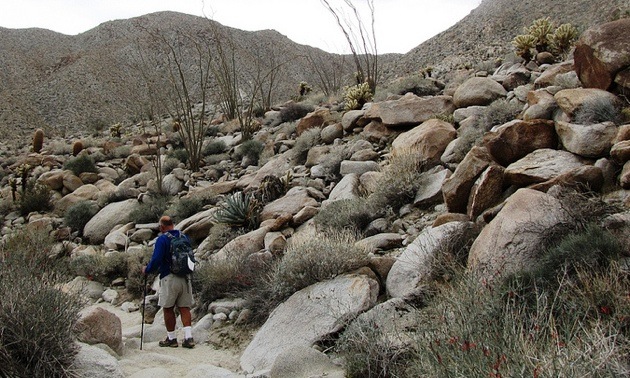 The sense of peace I felt while sitting amid agave and ocotillo was a passing sensation, but if I could reach back 70 years I would be hearing laughter and voices instead of only the wind. Today's rusty bed springs, splintered door jamb and crumbling adobe walls were evidence that this hilltop had once been someone's dream. The faint outline of a garden had been overtaken by desert plants and shifting terrain. These were the only hints of a family's experiment in primitive living in the first two decades after the Great Depression.
Out of nowhere, they came. Not some fearsome beasts, but gentle-looking tan bighorn sheep. They paused and watched us cautiously before dashing down the wash. We continued picking our way through the rocky dry waterfall stretch of our hike—feeling fortunate to have spent a few moments in their company.
The two paragraphs above, seemly unrelated, are describing experiences from back-to-back days hiking in Anza Borrego Desert State Park in southern California. Most people are familiar with the natural beauty in the state and national parks in the American West. We've met travellers from many states and countries whose time constraints allow visits to some combination of the Grand Canyon, Yosemite, Sequoia, Death Valley or Zion. If you describe yourself as a hiker and lover of desert terrain, then you might want to add Anza Borrego to your list of must-visit parks.
Visiting the 650,000 acre Anza Borrego Desert State Park (the largest desert state park in the U.S.) offers a chance to delve into early California history first by reading about it and then reliving it yourself through hiking, horseback riding or four-wheel driving explorations. Don't expect to see green trees. Instead there will be green teddy bear cholla or, after a rain, flame-tipped ocotillo. It's not your standard beautiful place—unless you can see the beauty that comes from a small agave plant peeking out from under a rock, or recognize the necessary adaptation, by both man and vegetation, to live in this desert environment.
The Spaniards followed Indian trails and water holes through this area in setting up one of their first settlements in Alta California. The Butterfield Stage Line delivered mail from Tipton, Missouri, to San Francisco across this arid land. Many emigrants to the west used the Southern Emigrant Trail to pass through the rugged desert from Yuma to more hospitable land south to San Diego or northward through California.
Marshall South Family
The reference in the first paragraph to sounds from 70 years ago alludes to the Marshall South family, who chose to create a home in a remote area of what is now Anza Borrego Desert State Park. Marshall and his wife, Tanya, felt apart from the modern civilization of the 1930s and desired a way to live in tune with nature. They built a small adobe home atop a ridge they named Ghost Mountain. The site was typical desert land with no water and populated by cactus, sparse palo verde trees and ocotillo. Everything they needed had to be carried up the mile-long path they had carved in the hillside, including water that was to be stored in cisterns built next to the house. Three children were born between 1934 and 1940. During the 16 years atop Ghost Mountain, the family lived a life balanced between hard work and having the freedom to live as they desired. As Marshal described in published articles, Tanya taught the children from books and he was teaching them from nature. In 1946 the experiment came to an end when Tanya tired of the challenges of the lifestyle and became concerned about the children's future in such a remote place.
Today, campers and off-roaders set up their mobile homes in campgrounds or simply park anywhere off the many dirt roads that wind their way through the occasional desert palm trees, barrel cactus and across dry arroyos. With modern equipment there is no need to lug water a few feet, much less miles, and all the food needed is easily stored in built-in refrigerators, cupboards or portable ice chests.
Shy borrego
The second paragraph at the beginning of this article is representative of the type of hiking that is available throughout the park. You will find unexpected oases, boulder hopping trails, long sandy roads, geologic wonders and, if you pick the less frequented trails, very few people. You might even see the namesake of Anza Borrego Park—the shy borrego, better known as bighorn sheep.
If you are looking for the peacefulness that can come from sitting in nature or want to explore a desert area that is tied to California's history, put Anza Borrego Desert State Park on your list. You can define your level of activity—reflective or kinetic—but you will come away glad you included Anza Borrego in your tour of the American West.
This article was submitted courtesy of Mary Taylor