So much water fun
There are so many activities to do in, by and around the water in Smithers
by Lisa Crane —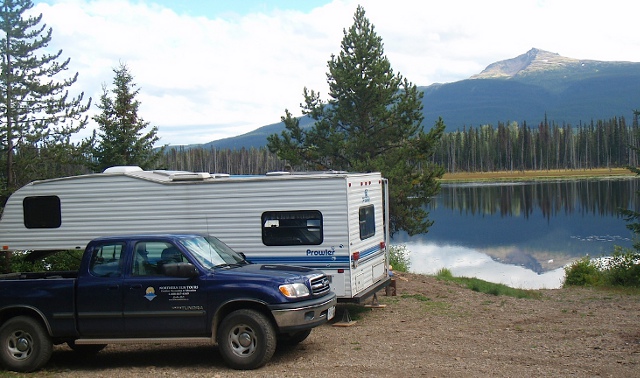 If water is on your mind this summer, check out Smithers, British Columbia.
In the Smithers-Telkwa area, visit Tyhee Lake Provincial Park. The park is easily accessed by RVs. A plethora of water activities await and facilities include the swimming area with large grassy beach, picnic tables, a playground, a covered shelter, a boat launch, water and a sani-dump. Group sites are available too. Once you have had enough of the water, there are walking trails that lead from the park to nearby Telkwa.
"This is truly a beautiful front-country park," said Gladys Atrill from Tourism Smithers. "There is a bird-viewing platform with many birds in the lake foreshore."
She said Tyhee Lake is very popular with the locals, who use it for canoeing, kayaking and boating.
"On a hot summer day, Tyhee will be busy with all manner of craft," said Atrill, "including folks fishing in small boats, right up to ski boats."
Atrill said it is also home to a float plane base, so flight-seeing tours can be booked with Alpine Lakes Air, just down the lake from the park.
Another lake with suitable RV access is Chapman Lake, about 38 kilometres off Highway 16.
"It has views of the Babine Mountains," said Atrill. "It also has a boat launch and is suitable for fishing with a small boat, and canoeing and kayaking are possible there."
She said Lake Kathlyn in Smithers is the public beach at the base of Hudson Bay Mountain, with a view of Kathlyn Glacier. On the mountain is the Smithers Community Forest, where there is a birdwatching platform. Atrill said that Dennis Lake on Hudson Bay Mountain is a small but stunning lake, and definitely worth the visit. Youth will be able to learn to sail from the end of July through August at the town's first-ever British Columbia Sailing Mobile Optimist Sailing School at Lake Kathlyn Beach. It promises to be a lot of fun for participants and spectators alike.
If paddling floats your boat, the Bulkley River is the place to go for canoeing, kayaking and rafting when the spring high water subsides. Rafting tours can be booked with Maincurrent Rafting, and canoe outings are available through Northern Sun Tours in Smithers.
"There are many access/egress points on the Bulkley (River)," said Atrill. "The Bulkley is also a prime destination for anglers for salmon and steelhead."
Don't forget Twin Falls. It is worth the hike to see this natural attraction just outside Smithers.