Saskatoon's season of fun
This thriving city on the South Saskatchewan River has a full and varied summer agenda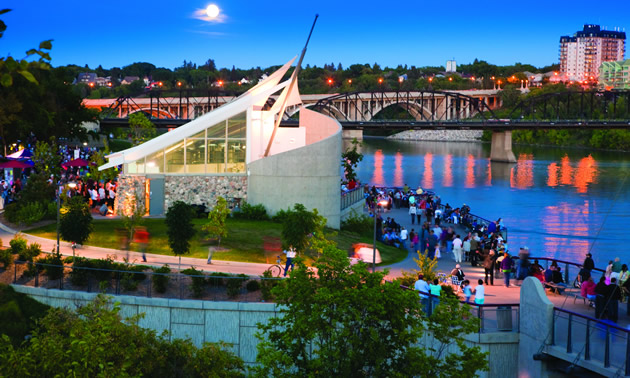 If you're wondering what the city of Saskatoon, Saskatchewan, has to offer the summer visitor, prepare to be impressed. Tourism Saskatoon has an online brochure called Hot Times Summer in the City that presents an array of events and activities that are keeping visitors entertained from May through October.
Pop and culture mix it up
For lovers of the performing arts, here's great news. The Shakespeare Festival is happening in Saskatoon from July 9 until August 24, and the Fringe Theatre Festival takes place from July 31 to August 9. Music lovers will enjoy an Evening Under the Stars: Ultimate Symphonic Rock Show on August 13, the Folk Fest taking place from August 14 to 16, and A Closer Walk with Patsy Cline from August 12 to 24.
Anyone looking for a more hands-on performance experience, take note of the John Arcand Fiddle Fest, from August 7 to 10, which offers guitar, fiddle, jigging and square-dance workshops as well as a free cultural camp and workshops for traditional Métis dance, crafts and storytelling.
Pop music fans will be excited to learn that Bruno Mars and Katy Perry will both be performing at Saskatoon's Credit Union Centre, Mars on August 3 and Perry on August 28. On the ethnic side, Ukrainian Day in the Park, on August 23, is a free event that will showcase the colourful costumes, dance and food of the Ukraine, in Victoria Park.
Food, fair and fireworks
And speaking of food, Saskatoon opens the month of August with a four-day RibFest at Diefenbaker Park. From August 1 to 4, Canada's best "ribbers" will prepare the summer's iconic food in an atmosphere of music, community and fun. Admission to the RibFest is free, as is parking, music and children's entertainment. Money raised at this event will support local and international charities.
What's summer without a fair? The annual Saskatoon Exhibition takes place from August 5 to 10, offering all the rides, food, noise and fun of the midway. The event opens with a parade and each evening ends in fireworks. Community involvement is encouraged via the Rise to Fame Talent Search and the Showcase of Arts.
To round out the summer with a resounding bang, the Potash Fireworks Festival will be held on August 29 and 30.
On the quieter side
Saskatoon offers lots of opportunities to balance the noise and bustle of its summertime festival atmosphere. It has seven public golf courses, extensive riverside trails and nearby provincial parks for biking and walking, daily river cruises on the Prairie Lily, great shopping and more restaurants per capita than any other city in Canada.
Tourism Saskatoon is offering the Saskatoon Experience Pass, an event and activity package that is a nice blend of intensity and relaxation. This offer is available until August 31 only to those checking in at one of a select number of hotels in Saskatoon—one free pass per night of your stay—and may be used until October 5, 2014.