Top beaches in Saskatchewan
Despite being a prairie province, Saskatchewan boasts some awesome waterfront campsites and beaches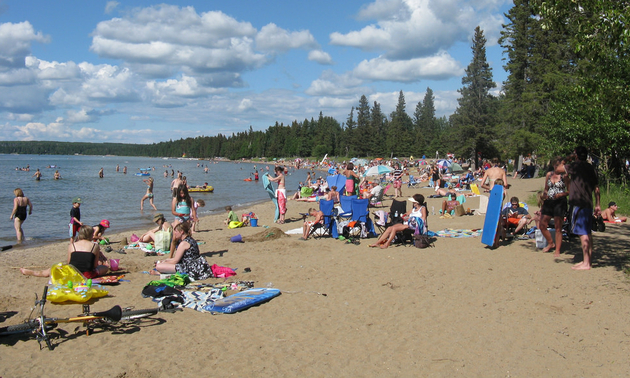 Saskatchewan might not be the first place to pop into your mind when you're planning a beach holiday - but you may be surprised when you find out what this province has to offer. There are a number of waterfront campsites and beaches here...check out a few of our favourites:
Waskesiu Lake is situated in the middle of Prince Albert National Park. While there are several bodies of water in the park, Waskesiu Lake is the most developed, with two public campsites in the vicinity and recreational facilities all along its shoreline. There is even an island off the west shore of the lake, called King Island (named after the park's founder, William Lyon Mackenzie King).
Lake Diefenbaker is the largest body of water in the southwest of Saskatchewan, formed by the construction of Gardiner Dam and the Qu'Appelle River Dam. It is a massive lake, offering 800 kilometres of shoreline. Perhaps its most renowned beach is at Palliser Regional Park, where you can go camping, fishing, boating and more.
Meadow Lake Provincial Park is made for water enthusiasts. There are more than 20 lakes within park limits, including Kimball Lake, where you can find the main beach. There is a playground, washrooms, picnic tables, barbecues and other amenities here. Don't forget to stop at Waterhen River, it's quite refreshing in the warmer months.
Katepwa Point Provincial Park is home to Katepwa Beach, a tranquil waterfront hub situated just 45 minutes northeast of Regina in the Qu'Appelle Valley. With picturesque views, a day-use park, service centre, playground and grassy picnic area, this beach has everything you need for a fun family outing.
Last but certainly not least, Good Spirit Lake (located in the provincial park of the same name) has earned the prestige of being one of Macleans magazine's "Top beaches in Canada". The lake has sandy beaches, and the water is warm, free of weeds and shallow. It's a popular choice for families with young children, but visitors of all ages tend to fall in love with this gorgeous part of Saskatchewan.