Top 20 things to see and do in Farmington, NM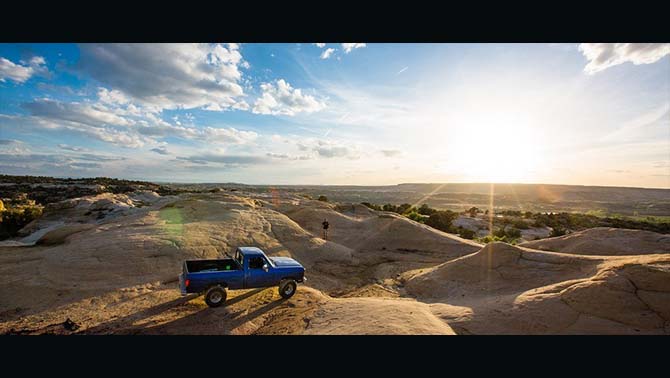 Farmington, NM – December 15, 2015 - As 2016 kicks off, it is the perfect time for travelers to begin making their destination resolutions, and Farmington, NM's outdoor activities, year-round mild climate and unique charm make it the ideal destination for all active families, adventure seekers and those looking to just get away from the hustle and bustle of the city.
"Farmington is a diversified area, complete with cultural experiences, outdoor recreation, signature events and a friendly atmosphere that allows people to escape the city and enjoy getting in touch with nature—while still having all the amenities they're used to having," said Tonya Stinson, Executive Director of Farmington Convention and Visitor's Bureau. "Whether you're planning a trip for your family, a cultural immersion vacation, or just wanting to have a truly one-of-a-kind, memorable get-away, 2016 is the year to take advantage of all Farmington has to offer."
In honor of the upcoming New Year, Farmington Convention and Visitor's Bureau has released their list of the Top 20 Things to See and Do in Farmington, NM in 2016:
20: Get in touch with nature, walk through the remains of history, and explore archaeological rock formations at the Bisti Badlands. Whether you're looking for a chance to do yoga or meditation in a scenic, unique outdoor area, go hiking, explore the historical sites of many complete dinosaur skeleton excavations, or take a photography journey, the Bisti Badlands and De Na Zin Wilderness is a must-see area.
19: Let the kids climb the walls this year. Farmington's indoor rock climbing wall is one of the largest free-standing walls in the southwest, and is perfect for climbers of all ages.
18: Spend the night in a cave. Have an unforgettable vacation experience, complete with a one-of-a-kind stay in a man-made cave house, set in the vertical cliffs of Tertiary Ojo Alamo sandstone. The views are unforgettable, as the cave overlooks the La Plata River, approximately 300 feet below, and offers breathtaking sights of New Mexico sunsets. Complete with a Native American kiva, Jacuzzi tub, and a waterfall shower, you'll get the best of both worlds—staying in comfort, while experiencing a night in nature.
17: Take the family out to the ballgame. Take part in the iconic and well-known A.A.B.C. (American Amateur Baseball Congress) Connie Mack World Series, for players aged 16 to 18. Enjoy this American pastime as the A.A.B.C.'s top teams compete for the title and each player performs with hopes to be noticed by college and pro scouts.
16: Take a golf buddies get-away. Play four world-class golf courses in one destination. Hit the greens at Pinon Hills, Civitan, Hidden Valley, and Riverview courses. Make a weekend of it, and stop in at Three Rivers Tap Room for a cold beer after the days on the course.
15: Get active at the Road Apple Rally. With classes for every level of cycling experience, the longest running annual mountain bike race is fun for everyone. Set amid the scenic Four Corners area, the sights are as incredible as the fun of the race. The Road Apple Rally takes place the first Saturday in October, and the course is open for riding year-round.
14: Immerse yourself in culture and history. Take a self-guided or guided tour of Dinetah Rock Art & Pueblitos. Farmington's rich history is perfectly illustrated and open to the public with the Dinetah Pueblitos, Spanish for "little Pueblos." With more than 200 pueblitos in the core region of Dinetah, built between 1680 and 1775, the pueblos range from one-room structures to large sites, such as sweat lodges, hogans, and more.
13: Be in four places at once. Take a selfie and make a memorable Instagram moment at the Four Corners Monument.
12: Spend some time on the water, catching fish and riding rapids. Fish five lakes in five days—all in one destination. Explore the waters of Lake Farmington, Navajo Nation Lakes, Jackson Lake, Cutter Reservoir, and Morgan Lake. Then, go river rafting along the Animas or kayaking on Animas River White Water Park.
11: Purchase unique, cultural souvenirs. Go on a local Trading Post tour throughout Farmington and shop for authentic Navajo art, rugs and jewelry.
10: Take a wine tasting girlfriend trip to unwind. Enjoy a much-needed get away from all the daily stress, and spend the weekend tasting the delicious wines at Wines of the San Juan and St. Clair Winery and Bistro.
9: Visit the largest insulator collection and an eclectic fish and wildlife display at B-Square Ranch. Come experience one of the most unique opportunities in Farmington with the B-Square Ranch's Bolack Museum of Fish and Wildlife, Bolack Electromechanical Museum or the B-Square Ranch and Experimental Farm. The Bolack Museum of Fish and Wildlife is one of the largest private collections of animal specimens with over 2,500 animals displayed. Also available to visitors is the Bolack Electromechanical Museum, in which a wide array of scientific and technological treasures is on display, including antique electrical, radio, industrial, communication, and agricultural artifacts.
8: Take part in a real life treasure hunt. All you need is a GPS or a GPS enabled mobile phone to take part in geocaching—an exciting and affordable outdoor activity, exploring historical and natural areas in and around Farmington. Farmington is home to over 500 caches, and there are 2,000 in San Juan County.
7: Take in a Night Sky Program and visit an International Dark Sky Park. Chaco Culture National Historic Park is not only a beautiful place to hike and explore; it also showcases the Chaco Night Sky programs on archaeoastronomy, cultural history, and telescope viewing of celestial objects.
6: Go fly fishing along the famous San Juan River Quality Waters. Wade in the water, and enjoy a day of catch and release fly fishing where the average trout is 17 inches and the fishing is so good, tall tales are not necessary.
5: Take a landscape photography tour of the unforgettable natural scenery of the area. The Four Corners area is known for its incredible views, rock formations, and scenery. Pack your camera and head out on a day trip to capture some of the most breathtaking shots around at Hogback, Shiprock Pinnacle, Angel Peak, Bisti Badlands, Sleeping Ute, and more. For a full list of scenic locations, visit FarmingtonNM.org.
4: Kick off summer with fun and entertainment on the River. Mark your calendars for Riverfest, taking place May 27th to May 29th. Area rivers near Farmington are celebrated with a festival of music, food, outdoor activities, entertainment and more. Activities include weiner dog races, river raft rides, art shows, disc golf, dances, a petting zoo, a 10k and 5k walk and run, and much more.
3: Experience an age-old tradition of oral storytelling. Come October, bring the entire family for a weekend of fun and entertainment at the Annual Four Corners Storytelling Festival, where storytellers celebrate the tradition that has been passed down for generations. Enjoy traditional tales of the Navajo, Hispanic cuentos or stories, as well as cowboy poetry and many other tales—all performed by some of the most talented national and local storytellers.
2: Experience the top off-roading trails in New Mexico. Farmington's recreation areas feature a wide variety of terrain for off-roading adventure, and the area has recently received national attention, with Chokecherry Canyon located in Farmington being named as the #1 New Mexico trail on the 2015 Top Off Road Trails in America list, published by Part Catalog. Farmington's trails include sandy arroyos, large sand dunes, world-class sandstone rock crawling, desert technical trails, steep hills and challenging slick rock for use in Jeeps, ATVs, mountain bikes, motorcycles and more.
1: Celebrate the National Park Service's Centennial Celebration! Visit Farmington, NM, basecamp to six fascinating National Parks, and tour the parks in celebration of 100 years of National Parks.
For more information on events and attractions in Farmington, NM, visit FarmingtonNM.org.