The Jellystone Park at Niagara Falls, Ontario is about to get even better
by Jeff Crider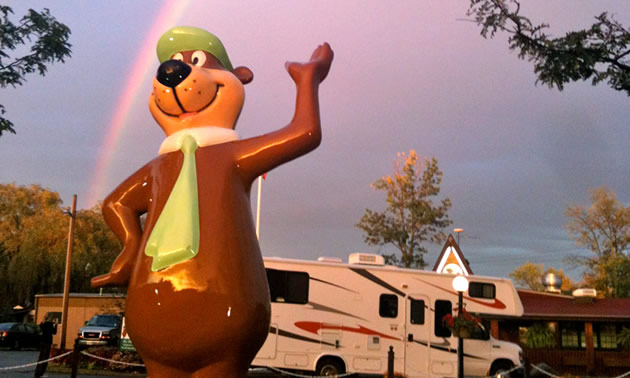 The Jellystone Park at Niagara Falls campground has the most amenities and activities of any campground in the Niagara Falls area, plus a private shuttle to take guests to and from the falls. And this year, it's about to get even better with 10 new glamping yurts, 13 new RV sites, and six new tent sites with water and electricity. Other improvements at the park this year include the addition of a Gaga ball pit to the campground's playground.
"We keep raising the bar," said park manager Jim Amadio, adding that campground staff are already gearing up for another busy camping season.
The Jellystone Park at Niagara Falls has many on-site amenities, including the largest inflatable water slide in Canada (34 feet tall); an 18-hole miniature golf course; and an all day recreation program every day from the end of June through Labor Day weekend. The park also has a day camp program that caters to local residents.
Jellystone Park locations, of course, are famous for their organized family activities and theme weekends with Yogi Bear, which help families create unique memories. Other amenities and activities at the Jellystone Park at Niagara Falls include a heated pool, a jumping pillow, pedal carts, a bounce house, arts and crafts projects, and plentiful interactions with Yogi Bear, Boo Boo Bear, Cindy Bear, and Ranger Smith.
Upcoming theme weekends include a "Medieval Mayhem" theme for Victoria Day weekend, May 17-19, with a royal tea party, knighting ceremonies, and jousting tournaments with Yogi Bear; an "Around the World" theme for Father's Day weekend, June 14-16, with Scottish highland games, Canadian bobsled races, and sumo wrestling with the bears, while a "Bearlympics" is scheduled for Aug. 16-19 that will include a picnic basket relay race against Ranger Smith and a sandwich eating contest with Yogi Bear.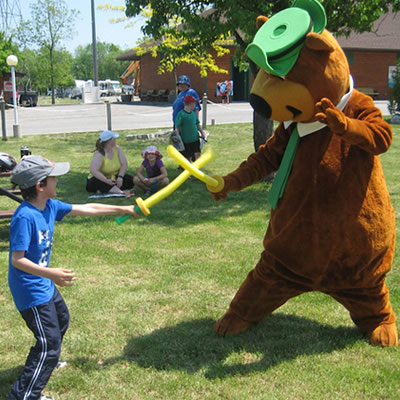 The Jellystone Park at Niagara Falls is one of the oldest campgrounds in the Jellystone Park franchise network, which is celebrating its 50th anniversary this year. The Niagara Falls campground first opened in 1965 and joined the Jellystone Park network in 1977. The Amadio family acquired the park in 2004. For more information about the Jellystone Park at Niagara Falls, including details on its activities and theme weekends, please visit https://jellystoneniagara.ca/en.
About Yogi Bear's Jellystone Park™ Camp-Resorts
Celebrating its 50th anniversary in 2019, Yogi Bear's Jellystone Park is the nation's leading family camping destination, famous for providing guests with amenities such as pools, water slides, and splashgrounds; activities including jumping pillows, mini golf, and pedal carts; fun-filled theme weekends such as Chocolate Lovers Weekend and Halloween Spooktacular Weekends; and interactions with Yogi Bear™ costumed characters. Jellystone Park guests can choose from a variety of accommodations, including premium cabins and yurts, deluxe RV sites, and traditional tenting campsites. There are more than 80 Jellystone Park locations in the United States and Canada. For more information, visit www.jellystonepark.com