Snowbirds in Yuma savour the region's agricultural history with produce and farm tours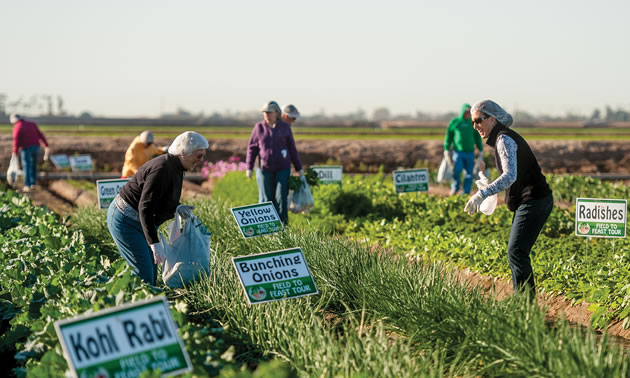 Some people think of Yuma as a hot and dusty outpost in the Sonoran Desert. But Yuma County is also a thriving agricultural community that produces over $3 billion a year in winter vegetables and other agricultural products.
In fact, a third of Arizona's agricultural produce comes from the Yuma County area, which makes it a prime winter destination for snowbirds looking to enjoy specialty "Farm to Feast" tours with gourmet farm to table lunches, farmer's wife dinners, progressive dinners and other special events, which are scheduled throughout February and March.
"Snowbirds love our warm winter weather and our agriculture," said Robert Rolle, co-owner of Rolle's Lynda Vista RV Park in Yuma, adding, "Yuma is a community that that does a lot of activities for the snowbirds."
Upcoming winter activities include:
Field to Feast Farm Tours: These half-day tours are led by a local grower and include a visit to a field planted specifically for the tour at the University of Arizona research farm. Participants are given a quick food safety lesson as well as hairnets, rubber gloves, lettuce knives and a recipe card that indicates what's needed in the kitchen. Farm tour participants pick the produce that culinary arts students from Arizona Western College will use to prepare a delicious and healthy lunch for the group. Participants are also welcome to pick their own fresh produce to take home. There are also opportunities to meet culinary and agriculture students. Tours depart from the Yuma Visitor Information Center at 201 N. 4th Avenue on February 7, 8, 15, 15 and 28; March 1 and 7. For tickets, go to www.visityuma.com.
Date Night Dinners: These unique multi-course gourmet dinners are served under the stars in a Yuma area date garden and have been listed by Fodor's Travel as one of the most unique culinary experiences in the world. The dinners are prepared by Alex Trujillo, a Cordon Bleu-trained chef, and take place at Imperial Date Gardens at 1517 York Road in Winterhaven, Calif. The dinners are presented by the Yuma Visitors Bureau in cooperation with the Bard Valley Date Growers Association. Check-in begins at 5 p.m. with a walking tour at 5:30 p.m. and dinner at 6 p.m. Dinners are scheduled for February 16 and March 9. For tickets, go to www.visityuma.com.
Farmer's Wife Dinners: These dinners, which are hosted in the historic St. Paul's Cultural Center, celebrate the fresh produce, farming history, traditions and recipes of local farmers' wives. Dinners are scheduled for March 12 and 19. For tickets, go to www.visityuma.com.
Savor Yuma: This is a progressive dining experience in which participants ride a bus and cruise from eatery to eatery, sampling fantastic flavors found throughout the city. The itinerary is constantly changing to ensure that no two tours are the same, but could include everything from taco trucks to iconic Yuma restaurants and other hidden gems. Tours depart from the Visit Yuma administrative office at Old City Hall at 180 W. 1st Street. Tours are scheduled for February 21 and March 7. For tickets, go to www.visityuma.com.
For more information about things to see and do in Arizona as well as Arizona RV resorts that cater to snowbirds, please visit GoCampingInArizona.com, the travel planning website hosted by the Arizona Association of RV Parks and Campgrounds.