Road Trip Highlights: An afternoon in historic Kenora – on Lake of the Woods
I'm not sure why, but Lake of the Woods was a destination I always wanted to visit. Our across-the-west road trip this summer gave us an opportunity to spend an afternoon in Kenora, located just inside the Ontario border after leaving Manitoba. Historic Kenora sits at the northern tip of a sprawling network of lakes that makes up the famous and spectacular Lake of the Woods region.
Maybe my desire to see the area goes back to the fur trading stories I've read over the years about colourful voyagers paddling their way from lake to lake—lonesome loons calling across the water, the splash of birch bark canoes and campfires crackling on the rocky shoreline.
"For those who have travelled in the rugged and beautiful country that surrounds Lake of the Woods, the City of Kenora can come as quite a surprise. Nestled in a glorious sweep on the north shore of Lake of the Woods, Kenora is a vibrant slice of city life, culture, and bustle that has somehow, almost miraculously been transported into a pristine wilderness setting," states Kenora's tourism website.
First of all, we wandered along Kenora's wonderful lakefront complete with float plane docks, a band shell, food vendors and a fleet of small cruise boats. Next we zigzagged in and out of a charming lineup of downtown stores, which were only a short block from the lakeshore. Kenora featured a collection of heritage buildings, a unique collection of small businesses (T-shirt shops, gift and antique stores and a nice used bookstore), restaurants and brew pubs—all catering to an array of visitors.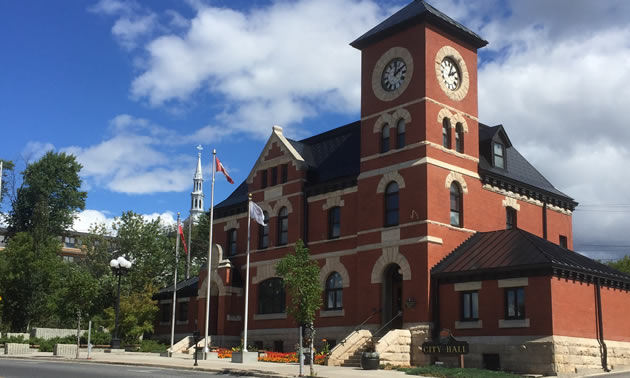 "For the visitor who wishes to experience the natural beauty of the area in comfort and style, Kenora offers accommodations and amenities to fit any budget or desire. Kenora provides visitors with a variety of activities to experience," says the tourism promotion material.
We ended our afternoon in Kenora with a late lunch/early supper at the Lake of Woods Brewing Company—a popular place buzzing with patrons, generous plates of hamburgers and locally brewed drafts.
Although we didn't have the opportunity to take a lake cruise or go fishing, Kenora bills itself as a sportsman's paradise with species such as walleye, muskie, small and large mouth bass, duck, deer, moose and bear. Kenora offers "top notch" fishing and hunting services including lodging, fly-in services, bait and tackle, and guides. Experience the succulent taste of a "shore lunch."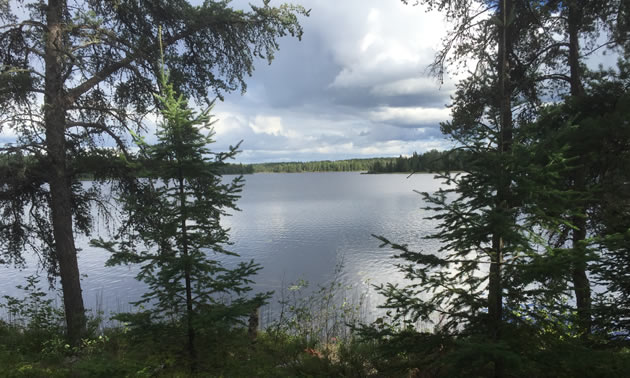 One disappointment was that the relatively new Northern Ontario Sportfishing Centre, located about an hour or so south of Kenora at Sioux Narrows, was closed for the day. Evidently the centre sees visitors from the United States, Sweden, France, Australia, England, Germany and, of course, Canada. As they say, you have to keep something to see for next time.
Travellers should keep in mind that the speed limit is only 80 kilometres per hour on Highway 71 which runs north to south all the way through Lake of Woods region. The road, a fully paved two-lane highway, has lots of curves and dips—so take it easy, slow down and enjoy the spectacular scenery.

Eventually we made our way down to Fort Francis and International Falls, where you crossed into Minnesota by travelling over a narrow, rickety bridge with abandoned (presumably) railway tracks running down the centreline. It took us 20 minutes to find the American border station, where the border patrol officer, seeing Cranbrook as our hometown, asked us if we were Kootenay Ice fans? Turns out that he had previously been stationed in Eastgate, Idaho, and often came to Cranbrook for hockey games.

Our afternoon in Lake of Woods left us wanting more time to spend exploring the beautiful rocky shores, the rich history and Kenora itself. The call of Lake of Wood still echos in our memory.

Note to RV'ers:
The Lake of the Wood/Kenora region offers a wide variety of RV resorts and campgrounds:
http://www.kenora.ca/visiting/plan-your-trip/where-to-stay/campingrv-parks.aspx