Order your FREE 2017 Parks Canada Pass and book your campgrounds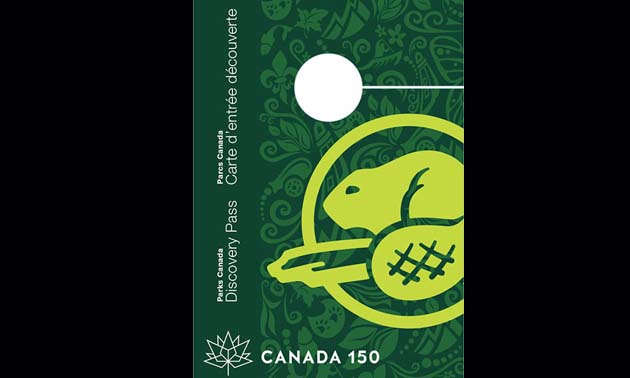 For all of 2017 this pass gives you unlimited opportunities to enjoy National Parks, National Marine Conservation Areas and National Historic Sites across the country, in celebration of Canada's 150th Anniversary!

Please note:
You only need to order one pass for your group or family if you are all travelling together. A 2017 Discovery Pass is valid for everyone arriving in the same vehicle at a national park, or arriving together at a marine conservation area or historic site.
The Discovery Pass is only accepted at national historic sites which are operated by Parks Canada.
Activities such as tours or parking that normally carry a separate fee may not be covered by the Discovery Pass.
Camping fees are not included with the Discovery Pass
Validity Period: January 1st 2017 to December 31st 2017.
Display: The 2017 Discovery Pass must be hung from the rear view mirror of the vehicle facing forward or it can be placed on the front driver side dashboard facing up.
If you have questions regarding the above information, please contact our National Information Service at 1-888-773-8888 or [email protected]

It's also time to make your camping plans for 2017! Parks Canada is expecting extra demand this year as the Government of Canada is celebrating the country's 150th anniversary with free entry to all Parks Canada places, so visitors are encouraged to plan ahead and make their camping arrangements early. While camping fees remain in place, the daily admission fee to experience these places will be waived throughout 2017.
For example, Riding Mountain National Park's reservation system for the 2017 camping season opens Monday, January 16th, 2017. Campers interested in reserving a campsite, an oTENTik, or a Yurt in Wasagaming Campground can book their sites starting at 8:00 a.m. (CST). Reservations can be made at www.reservation.pc.gc.ca or by calling 1-877-737-3783 (1-877-RESERVE). Campers reserving in the Wasagaming Campground for 2017 are sure to enjoy newly surfaced roads, upgrades to shower and washroom facilities, and the addition of electric and/or water services to an additional 128 campsites.
Parks Canada continues to improve its visitor offer with investments in infrastructure – particularly in campgrounds and day use-areas, the addition of oTENTik accommodations across the country, and even more innovative and educational events and activities.
Canada's national parks are gateways to nature, adventure, and discovery. Parks Canada brings iconic Canadian experiences within your reach through reasonable rates and a range of camping options for the 2017 visitor season.