4th Canadian RVing and Camping Week May 22 to May 27, 2018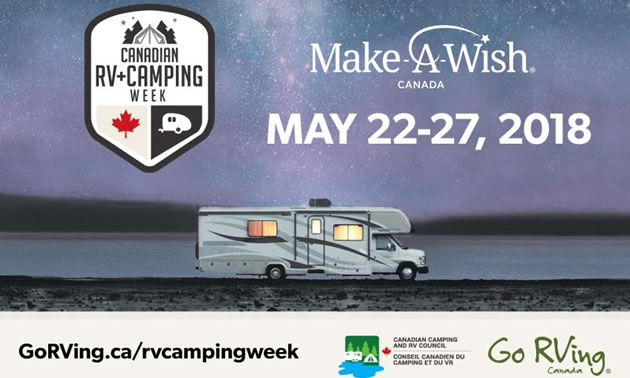 The fourth Canadian RVing and Camping Week occurs Tuesday, May 22 to Sunday, May 27, 2018. It's a celebration of camping across Canada, while helping to make wishes come true with Make-A-Wish Canada. Go RVing Canada and the Canadian Camping and RV Council are pleased to partner to help raise awareness of the benefits of camping and to help make wishes come true for children facing life-threatening illnesses.
In British Columbia, 24 campgrounds are participating and they will be joining other campgrounds and dealers coast-to-coast to raise funds for Make-A-Wish® Canada with a goal of raising $25,000 to help provide experiences and opportunities for these deserving children.
On Saturday, May 26th, around dusk local time, campers are invited to gather around the campfire(s) and simultaneously roast marshmallows and s'mores all across Canada in support of Make-A-Wish® and Canadian RVing and Camping Week. Keeping those with life-threatening illnesses close to their hearts. If you cannot attend a local event, then consider making a direct donation online.
Camping is an affordable family activity that promotes a sense of community, creates life-long memories and encourages Canadians to discover Canada's rich landscape and engage with nature. A recent report, commissioned by the Camping and RVing BC Coalition, found that more than 2,054,330 campers in the short-haul markets of BC, Alberta and Washington are likely to camp or RV in BC in the next 2 years.
Other findings in the report for the BC resident's questioned showed:
The most popular equipment used was a tent/tent trailer (45%) followed by trailer/fifth wheel/truck camper (24%) and motorhome/camper van (18%).
About a third of BC residents who camped had camped in shoulder seasons (29% - spring, 29% - fall).
10% of BC residents who camped had camped or RVed in the winter.
The estimated camping population for BC was 875,000 of which 34% camped more than 15 days per year.
The importance of camping has been recognized by the province of British Columbia who issued a proclamation to proclaim May 22 – 27, 2018 RVing and Camping Week.
Background:
The Canadian RV and Campground Industry make significant contributions to Canada's economy. Over 14% of Canadians own RVs and 90% of RV owners say their #1 priority is seeing Canada. Over 1 million RVs are on the road today and RV owners take over 8 million trips a year. These numbers equate into the camping sector contributing $4.7 billion to Canada's GDP and creating 60,000 jobs in small communities across the country.
British Columbia has 570 campgrounds representing 38,669 campsites operated by the private sector, municipalities, Parks Canada, and BC Parks. In BC over 662,000 people camped in 2015 – 56% in tents, 9% in trailers, 6% in tent trailers, 9% in fifth wheels and 11% in Motorhomes and 9% in other lodging.
In BC, the camping industry contributes $606 million dollars to British Columbia's GDP, collectively employs 7,524 people, while generating $137 million in sales and income tax.
Quotes:
"We are thrilled to have Campgrounds in British Columbia join their peers across Canada in the 4th Canadian RVing and Camping Week May 22 - 27, 2018, offering campers discounted stays, organized fundraising events while building memories to cherish. As we kick-off the Canadian RV and Camping Season, I would like to encourage everyone to get outdoors and reserve your campsite to truly experience all the tremendous features that this memorable week has to offer" - Shane Devenish, Director, Canadian Camping and RV Council
"Camping is certainly known for campfires, swimming in the lake and hiking trails, but today it is so much more than that. Camping has evolved as an important way of life for many Canadians to connect with family and friends, while enjoying nature and the outdoors. Canadian RVing and Camping Week May 22 - 27, 2018, encourages Canadians to camp or RV and experience somewhere different with discounted stays. The week is about people celebrating the camping and RVing lifestyle!" - Joss Penny, Chair, Camping and RVing BC Coalition