Take a Kootenay hot springs tour
These are some of the hottest spots in the Kootenay region—literally!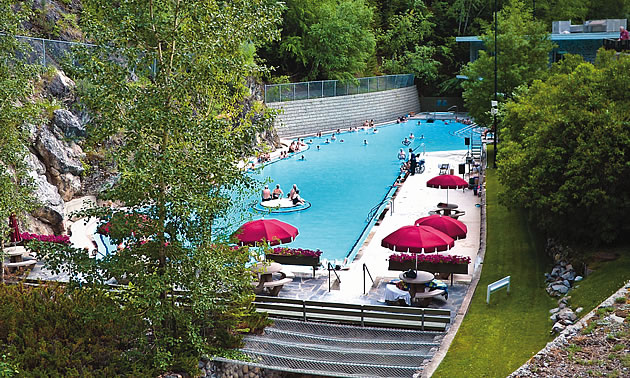 Rain or shine, hot springs are a welcome retreat to anyone seeking relaxation, therapeutic restoration or just an overall fun time with the family. The Kootenays are blessed with a number of hot springs—each of which has its own unique charm, recreational activities and amenities on site. You might even want to take a tour and try to visit all of them during your stay.
Retreat to Radium Hot Springs
Situated at the south entrance of Kootenay National Park, Radium Hot Springs is an alpine village with much to offer. You can find almost any type of accommodation here, from quaint bed and breakfasts to RV campsites and resorts.
Radium Hot Springs is, of course, most famous for its odourless mineral pools—which are known for being Canada's largest.
The pools are surrounded by rock walls, and the Rocky Mountains provide a stellar background for your relaxing getaway. There is a shallow area for lounging or letting the kids play in the water, and a restaurant that serves cappuccinos and other treats during the summer months.
Recharge in Nakusp
In a cosy community setting, the Nakusp Hot Springs are waiting to rejuvenate visitors with clean, filtered mineral water. There are chalets and campgrounds near the hot pools, and these features have made Nakusp a popular spot for functions and get-togethers of all kinds. The mineral water has over 11 different constituents reputed to provide substantial healing benefits for nearly any health condition imaginable.
When you aren't busy soaking, you can explore more than 200 acres of land near the hot springs, and enjoy a full range of outdoor recreation.
Embrace the Fairmont spirit
A tourism highlight in the Columbia Valley, Fairmont Hot Springs allows visitors to soak in mineral pools of differing temperatures to suit their preference. There are poolside markets, a deluxe spa and restaurants that serve everything from fast food to gourmet cuisine.
There are many regular guests who have been returning to this location for decades, simply to indulge in the healing waters and to enjoy the pleasant company of the staff and locals alike.
If you are staying at the Fairmont Hot Springs Resort, you can take advantage of the private guest hot pools, Nordic-style hot and cold plunge pools, a steam room and sauna.
Seek bliss at Ainsworth
No hot springs excursion would be complete without visiting Ainsworth Hot Springs. This family-friendly attraction boasts three odourless mineral pools, a stream-fed cold plunge pool and a main lounging pool.
Perhaps the most exciting feature is the 150-foot horseshoe cave. Here visitors can walk through soothing waist-deep mineral water and see cave formations such as stalactites and stalagmites.
Also at Ainsworth Hot Springs, The Springs Dining Room offers a diverse array of menu items for you to enjoy after your soak. The staff there are particularly proud of their fresh ingredients and locally made wines.