Five ways to personalize the RV lifestyle
Grasshaven Outdoor offers its expertise with five creative tips to making your RV an appealing place to call your own
by Dawn Bitz —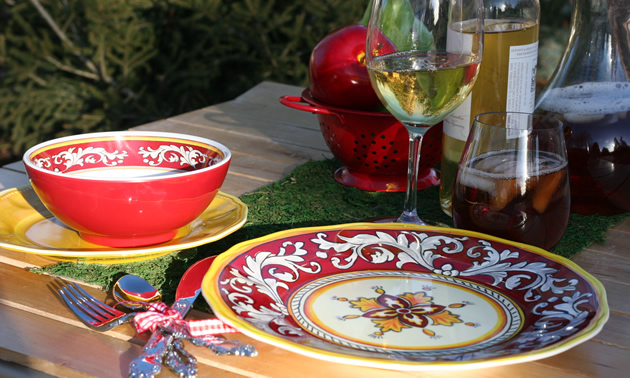 The baby boomer generation is testing the waters of the RV lifestyle, and occasionally jumping full force into the deep end. Best of all, they are doing it on their own terms. Reinvention defines their RV experience. This is not the RV lifestyle of generations past. Gone are the days of bingo and shuffleboard. Boomers are grabbing their RVs, Airstreams and Teardrops, then venturing into the great outdoors to conquer it with their own style and breaking a few rules along the way.
RVing offers freedom and flexibility. There are no time limits. Travellers have personal control over where they stay, when they arrive and when they depart. With modern-day transportable homes, they can do it with personal flair and extensive comfort.
Though today's RVs are amenity rich, the transportable home can still feel sterile and impersonal. RVs arrive fully furnished and factory decorated but by adding personal touches, this "home away from home" can feel even more like a real home. Products offered by Grasshaven Outdoor are designed to do just that.
"By hand-selecting great dinnerware, multi-functional cookware and outdoor furniture, we strive to elevate your camping and RV experience with both function and style," Dawn Bitz, founder of Grasshaven Outdoor, notes. "We love to showcase great products on our website, place inspiring images on our Pinterest page and highlight how-to's to really get everyone into the great outdoors."
She goes on to outline five focus areas that can turn the everyday RV into a destination unto itself.
1. Turn the dinner table into a sensory feast
Stylish dinnerware, glassware and barware can turn mealtime into an entertaining event. New materials and styles transform and add countless options to outfit the campsite in style. For dinnerware, non-breakable choices range from melamine to bamboo and even include new takes on enamelware (this is not the speckled enamelware of old). Polyacrylic glassware comes in different colours, shapes and styles, making drinking and tablescaping options endless.
2. Bring out the chef in everyone
Outfitting the RV kitchen with multi-use and collapsible tools saves space and can bring out the chef in everyone. Tools like collapsible salad spinners double as colanders and serving bowls, while gadgets such as collapsible cheese graters and whisks turn bulky items into storage gems. The indoor kitchen and its necessary gadgetry can be recreated outdoors, resulting in a great gourmet experience.
3. Add the softer side: rugs and bedding
Most RVs arrive outfitted with carpet and colour-co-ordinated bedding. Yet most retain a "factory-made" feel. Softness and textures are often traded for mass-produced fabrics and treatments. Replacing factory bedding with high-thread-count sheets, sophisticated duvets and luxurious down (natural or synthetic) comforters will add a bit of luxury to the RV sleeping experience. Adding indoor/outdoor washable rugs that are soft underfoot can add beauty and comfort. Looks for styles that co-ordinate well with your RV and personal style. Touches of softness and sophistication will help personalize the outdoor home.
4. The great outdoors means living outdoors
Portable outdoor furniture rounds out the campsite. Wood, metal, canvas and outdoor fabrics can all interplay to create a cohesive outdoor look that rivals your home. Chairs offering function and style are a perfect way to relax and enjoy the outdoor air. Folding wooden picnic tables, coffee tables and side tables create outdoor living spaces and extend the indoors out. By co-ordinating all the outdoor furniture pieces together, a stylish campsite will emerge.
5. Accent with accessories and lighting
Accessories and lighting, just like in a stationary home, are the final accents in personalizing the RV. Pink flamingos artistically reforming into Incognito Flamingos can showcase fun and whimsy. Your personal RV style can mirror your own personality. Lighting is another dramatic way to create ambience and style. Bamboo or more sophisticated steel tiki torches or string lights can add a charming glow to the nighttime campsite. So, whether it's kitschy and campy (no pun intended) or sophisticated and stylish, accessories and lighting can add personality and panache to the campsite, both indoors and out.