Powering up the volume in Powell River, B.C.
Celebrate summer's end with music and sunshine in Powell River, B.C.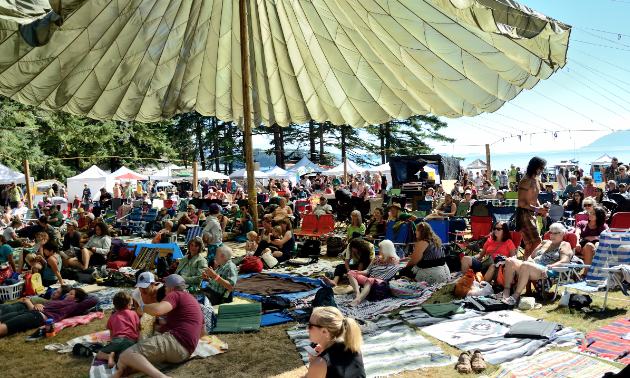 The trek to Powell River isn't one that's taken by accident—you'll need a ferry get your RV to the remote location—but travellers who make the trip in the later stages of summer will be rewarded with two big music festivals, along with the always stunning scenery.
Sunshine Music Festival
The Sunshine Music Festival runs every Labour Day weekend in Powell River's Palm Beach Regional Park—a beach forest glade overlooking the Salish Sea and Texada Island. The festival is a celebration of music from across Canada and the world, with 2017 marking the 36th annual edition of the popular music fest.
This traditional end-of-summer gathering emphasizes a broad diversity of musical styles and genres: soulful jazz, R&B stylings, mystical sounds and grooves of neo-Punjabi bhangra.
The Sunshine Music Festival aims to be bigger and better than ever this Labour Day weekend—as most successful festivals endeavour to do. "This year we will inaugurate and smudge a new pavilion to serve the community and live musical artists," said Robert Mackle, artistic director for the Sunshine Music Festival. "This new shelter and stage is an acoustically designed architectural sculpture to music, made of a beautiful Douglas fir and capped by a living roof."
The all-ages event features an array of food vendors, creative arts and crafts stalls, a massage/reiki tent and kid zone. You won't find any litter scattered across the panoramic backdrop—Sunshine is a zero-waste festival. Organizers provide plates, cutlery and cups to all the booths. Drinking water is provided as well—no bottled water is sold.
Party away your Labour Day in Powell River September 2 and 3, 2017.
Arts Alive in the Park
It's alive! Art, that is. Arts Alive in the Park is Powell River's two-day event on August 19 and 20 where established and emerging local artists display their work and present it for sale in the Willingdon Beach Rotary Pavilion. Musical performances are scheduled throughout the weekend and distinctive food will be available from local vendors. Activities and games for all ages can be found amongst the alluring art displays. Arts Alive follows Powell River's annual Blackberry Festival, so once you finish picking out the seeds between your teeth, be sure to celebrate the 18th year of Arts Alive in the Park.