Phoenix is a hub of educational tourism
Painting, pottery and cooking classes are all available for snowbirds in Phoenix, Arizona.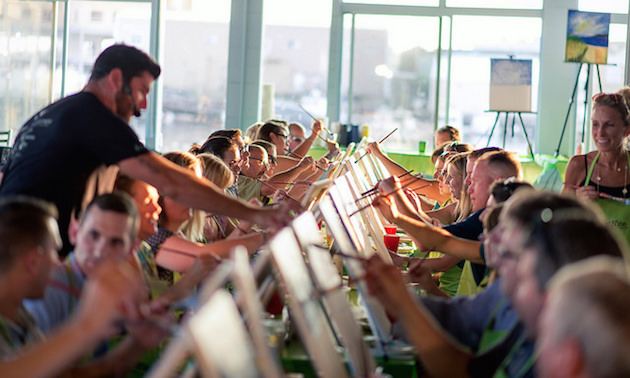 There is much to celebrate and inspire in the desert—big skies, open land, rich history and bustling centres—and Phoenix and its surrounding areas have it all. Art and culture studies, cooking classes and clay sculpting are just a few ways to taste the town's educational culture, no matter how short or long your stay.
Artists unite
Salute your inner artist at a Paint Nite event, which involves cocktails and professional painting instruction for two of the most rewarding hours of your artistic life. Hosted in communities throughout North America, including Phoenix and the surrounding area, Paint Nite is perfect for painters of all abilities looking for a vibrant atmosphere and some basic techniques.
"In about two hours, Paint Nite customers will create a personalized piece of art to take home," said Courtney Osgood, manager, global PR/communications for Paint Nite. "Paint Nite has more than 7,000 original paintings in its library, all waiting to be recreated."
The Phoenix area hosts events four to five nights a week, sometimes with multiple events per evening. Paint Nite includes all necessary materials, and performing artists guide participants each step of the way.
"Participants can choose an event based on a painting itself, in addition to date, venue or location," said Osgood. "Just bring your fun-loving friends and have a few cocktails to keep the spirits high and inhibitions to a minimum, and we'll make sure your inner Picasso is unleashed."
To learn more or book a session, please visit Paint Nite's website.
Drop-in pottery
Desert Dragon Pottery and All the Hands work together to offer an open, welcoming studio celebrating all forms of clay art. This isn't your average studio: immerse yourself in natural inspiration on two and a half acres of private property where hawks and ravens fly, and owner-operator Michelle Katz lulls you into tranquility with great music and singing.
Katz said travellers visiting Phoenix for a short time will enjoy Paint on Pottery or Taste of Pottery, while those staying a little longer can peruse the online calendar for ongoing workshops for all ages and abilities.
"Paint on Pottery is a walk-in, choose an item to glaze, and price by size," said Katz. "That item is fired and ready for pickup usually within two to three days."
Taste of Pottery begins with a hands-on pottery wheel lesson, followed by Taste of Glaze—choose a pot, decorate and fire.
"Our dream studio has all the tools and expertise to outfit your clay journey," said the studio website. "Whether you want to learn to throw on the wheel, glaze pre-made pottery, or sculpt, there is something clay for everyone."
For more information or to view the calendar, visit desertdragonpottery.com.
Unleash your inner gourmet
If your passion is food, consider Classic Cooking Academy in Scottsdale, which is adjacent to the greater Phoenix area. Turn practical skills into gourmet cuisine, or focus on specific flavours and styles like pizza, wine or pastry.
Classes are longer—12 to 24 weeks—but might just be the connection to learning experience snowbirds are looking for. Classes are instructed by a team of amazing chefs, led by owner Chef Pascal Dionot, who was trained in France, Germany and Spain before arriving in the U.S. to share his passion for fine food and expertise in culinary education.