From Chicago busboy to culinary mastermind of the Southwest
by Jena Jones —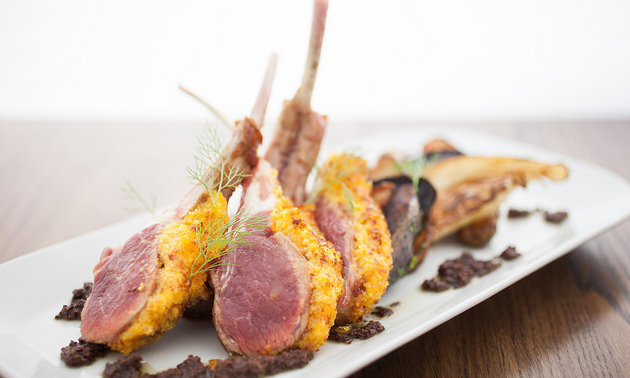 For Chef Michael Rusconi, the passion for cooking started at a very young age when he would watch "The Galloping Gourmet " and various other cooking shows. As a self-described latchkey kid, Chef Rusconi spent the majority of his childhood alone. Through the inspiration of cooking shows he was making his own eggs and pancakes at the tender age of six. When most kids are learning to read and tying their shoes, this future chef was already learning to cook by himself. With his grandparents being from Italy and Portugal, family meals were very important. Already intrigued with making food and watching cooking shows, Rusconi found that his family influences would also teach him the value of food and the bonding that occurs over a good meal together.
Growing up in the Chicago area, there was never a shortage of good restaurants that his family would frequent. Chef Rusconi fondly remembers The Bakery Restaurant owned by Louis Szathmary from 1969 to 1989. Although he can't name any influences major culinary influences, Rusconi does remember the larger-than-life Chef Szathmary with his Coke-bottle glasses and how those restaurant visits drove his passion for the culinary life. At 16 years old he took a job as a busboy and from there, plotted a course to become a chef.
After graduating from the New England Culinary Institute in Vermont, an eager Rusconi worked for many prominent chefs including James Beard Award-winning chef Vincent Guerithault. After years of working as a sous chef under some accomplished chefs, Rusconi decided to take the big leap and open his own restaurant in Phoenix, Arizona.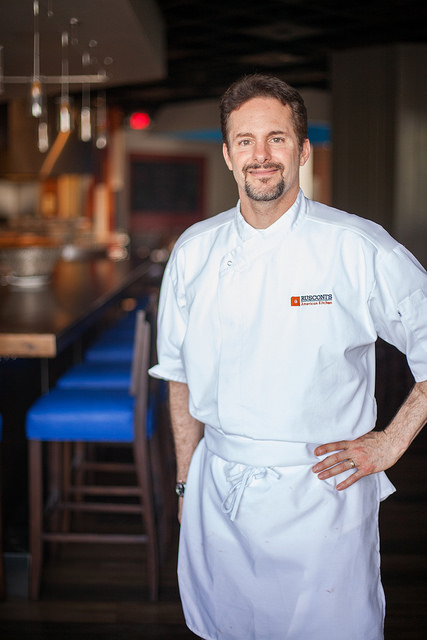 Since Rusconi's American Kitchen opened its doors on September 18, 2012, it continues to be a local favourite and is ranked No.1 on various travel and social media sites like TripAdvisor and Yelp. The restaurant's website states: "Chef Rusconi's menu is ever-changing and reflective of the season. Expect a wide variety of your favourite dishes uniquely enhanced with ingredients native to the Valley." According to Chef Rusconi "There is no secret formula to the success of the restaurant, but it's a labour of love and it's always a great challenge in creating a great restaurant."
Judging by customer feedback, a fan favourite is the chef's blackberry glazed salmon. It is wood grilled and caramelized to perfection and accompanied by roasted potatoes and baby cabbage. Although the menu changes seasonally, this dish is the most requested on the menu and is served year-round. Depending on the season and what is fresh, Chef Rusconi might change the side pairings, but the caramelized blackberry deliciousness always stays the same.
Cooking with fresh ingredients is always important, although due to Arizona's harsh climate conditions, it can be more challenging to find local ingredients indigenous to Arizona. Chef Rusconi only works with the finest ingredients and does appreciate the vast crops of squash, arugula and mixed greens from the Yuma, Arizona crops as well as working with local Blue Sky Farms for their tomatoes. His classical culinary training has made him quite partial to mushrooms and truffles, but he is not a fan of sea urchin.
When he's not in the kitchen, Chef Rusconi is either watching his daughter play softball, or supporting other independent, local restaurants like the Barrio Café and St. Francis (both in Phoenix). As an independent restaurant owner himself, he believes it's important to support other chefs and their culinary dreams.
Chef Rusconi offers some advice to the home cooking enthusiast: "Less is more. You can always add more, but you can't take it away." Which is a great bit of advice for anyone stepping foot in a kitchen. He has different advice for anyone that has a dream of becoming a chef. "Get a job in a kitchen first before you make that commitment and financial decision to attend culinary school." Some wise words from a successful chef who started as a teenage busboy!
Chef Rusconi believes that "you are only as good as your last meal" and with creative menu items like blackberry caramelized salmon, truffle-scented macaroni and cheese and mild chili-glazed duck breast, it's no wonder his restaurant stays packed. Along with his outgoing nature, passion for great food and stellar customer reviews, Chef Rusconi's culinary creations are sure to keep diners coming back for more.
Rusconi's American Kitchen is located at 10637 North Tatum Boulelvard in Phoenix, Arizona. Hours of operation: Sunday and Monday 4 to 9 p.m.; Tuesday through Saturday 4 to 10 p.m. Lunch is offered Tuesday through Friday, 11 a.m. to 2 p.m., and a special Sunday brunch from 10 a.m. to 2 p.m. For current menus and contact information visit the restaurant's website: Rusconi's American Kitchen