An act of love
Mary Lou invites you to her castle
by Kali Love —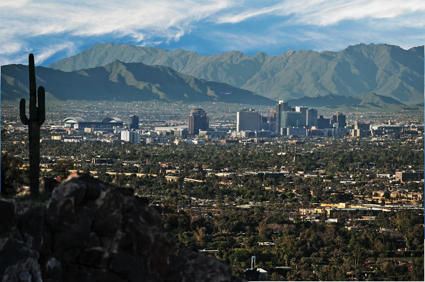 Mystery Castle, a Phoenix Point of Pride, definitely draws visitors in. The castle was built by Boyce Gulley for his daughter, Mary Lou, after he learned that he had tuberculosis in 1929.
Gulley, seeing no other way, left his home in Seattle without a word to his family and moved to Phoenix to ease the pain his illness would have on his family. However, Gulley fondly remembered the sandcastles he used to make with Mary Lou and he set out to build her a castle. Gulley sought out items at the dump, including stones, automobile parts and railway lines.
Gulley lived until 1945. Mary Lou was 18 when Gulley's family heard of his passing, and she moved into her castle later that year. Mary Lou, now 89, still lives in the castle. The three-storey mansion has 18 rooms, a chapel and a dungeon. Mystery Castle is open to visitors Thursday to Sunday from October through June.