Take a break at Pedder Bay
To absorb the spirit of this community, spend some time at Ash Point and the nearby coffee shop or marina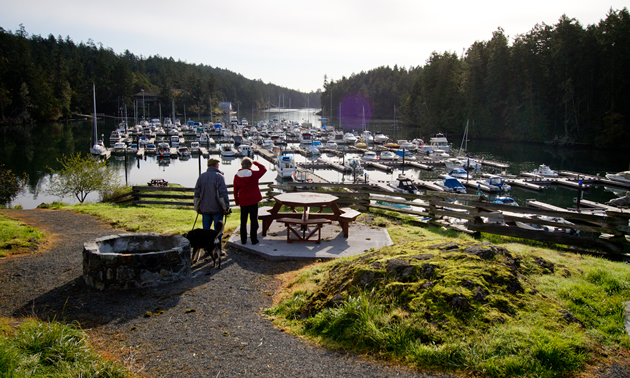 It's no secret that Pedder Bay is a great place to go if you feel like you really want to get away from everything. Despite being a mere 40 minutes from Victoria, the area is close to nature, open and friendly. Not only that, but it's surrounded by the beauty of Vancouver Island. And part of the appeal of Pedder Bay is that you can enjoy these benefits in the company of like-minded people.
Regardless of why you visit Pedder Bay, you will definitely discover Ash Point. This serene area is a common gathering place that is located above the docks. Here, you can sit at one of the gazebos or picnic tables and watch the fishers below as they bring in their catch. Of course, you might want to be part of the action and try out the fishing yourself. Boats and gear are available for rent, or a boat ramp is provided. If fishing isn't your thing, then a trip out on the water may still be worthwhile for sightseeing and the opportunity to view Race Rocks Ecological Reserve about 10 minutes away.
When you return you can stop by the bustling coffee shop to trade fish stories and grab a bite to eat. Choose to sit at the large patio, or wander up to Ash Point with your coffee, and you can observe the marina's social scene.
It won't be hard to fill your days at Pedder Bay. Trips to Victoria, a swim in Matheson Lake or a walk or bike ride on the groomed Galloping Goose Trail are all excellent options. Still, Ash Point will always be waiting at the end of any outing to help you appreciate the beautiful outdoors. Perhaps you can join the RV community here for an evening campfire, or enjoy a picnic lunch in the afternoon. However you choose to interact with it, this piece of Pedder Bay will be a great place to take a break.