Come explore Pedder Bay
Pedder Bay is surrounded by unsurpassed nature—make time to discover it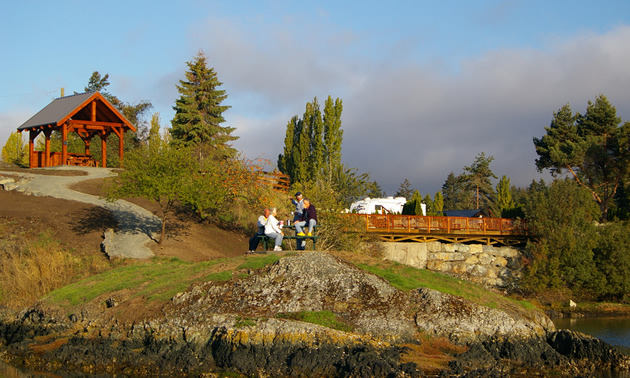 It would be easy to while away your days on the docks of Pedder Bay. If you are visiting, however, don't overlook the active and educational options also offered in the area. Pedder Bay RV Resort and Marina rents out boats, bikes and kayaks if you haven't brought your own. Consider these options from this southern piece of Vancouver island.
East Sooke Regional Park
East Sooke Regional Park is an ideal place to interact with the stunning outdoors of Vancouver Island. A short drive from Pedder Bay, this park offers hiking that caters to any skill level, as well as amazing scenery. Martin Paish, general manager at the Pedder Bay RV Resort, recommended the area, especially Aylard Farm. He described "great beaches, trails and petroglyphs, plus a bit of local history in terms of settlers."
Race Rocks Ecological Reserve
Another excellent natural option in the area is Race Rocks Ecological Reserve. About 10 minutes away by boat, this protected area offers a prime opportunity to view sea lions as well as other wildlife. Race Rocks is serious about protection of the ecosystem, which means visitors have a great chance to view these animals in their natural surroundings. Be sure to be respectful of the area, and the life that thrives there.
Matheson Lake and Galloping Goose trails
Galloping Goose Trail, at 60 kilometres long, connects Victoria to Sooke and is easily accessible from Pedder Bay. It is well groomed and any portion of it is ideal for walking or biking. Also close by is Matheson Lake Regional Park. Day parking is available, and visitors can fish, swim or just lounge by the lake. Feeling more ambitious? "The Matheson Lake trail, and its abundant wildflowers in the spring, is another great discovery . . . I made last year," said Paish.