Welcome to Canada's Mediterranean
Parksville and its surrounding area boast balmy temperatures and convenient, fun facilities for campers
by Lisa Crane —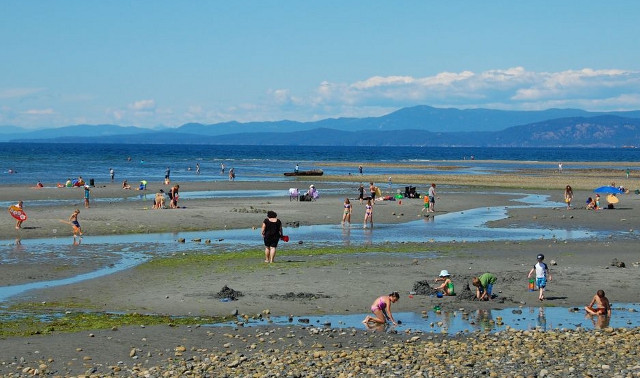 Parksville lies on the beautiful east coast of B.C.'s Vancouver Island, and together with the surrounding area is often referred to as Canada's Mediterranean. Boasting the warmest average temperatures in the country, this region is a very popular vacation spot. Visitors can enjoy endless walks on gorgeous beaches, comfortable water temperatures and access to unique shopping and dining.
In Parksville, there are many opportunities for water fun. If swimming is your thing, Parksville has an incredible sandbar that stretches for a kilometre. It is shallow, bakes all day and the temperature gets into the mid-20s (Celsius).
Play in the ocean waters
Rathtrevor Beach Provincial Park is a highlight of the region.
"It is by far the biggest and most popular park, covering 347 hectares," said Blain Sepos, executive director with the Oceanside Tourism Association. "It has 174 drive-in sites, and some walk-in sites if you want to camp closer to the water."
Sepos said Rathtrevor is a phenomenal park—it is right off the highway and so easy to get to. For Sepos, accessibility is one of the most important aspects of camping. How close is my site off the highway and how close to the water?
You can enjoy incredible convenience in this part of the island. The RV parks situated along the main highway in Parksville offer amazing facilities and are close to the water and shopping. They are so close to everything that there is no need to unhitch and drive miles for supplies.
The local rivers provide opportunities for camping and more.
"The rivers in the area are calm and shallow, perfect to fish and float," said Sepos.
Qualicum Bay Resort is also a neat place to camp, he said. It is a 30-acre resort with access to forestry land and features a disc golf course, waterslide, and bike, canoe and kayak rentals.
Make a stop at Coombs
"I would be remiss if I did not mention the Coombs Country Campground and RV Park," said Sepos. "It is outside of Parksville, due west, and is considered a great stopover."
This campground features sites surrounding a man-made lake.
Sepos said that if you want a little bit of a different experience, Coombs is an interesting place to visit.
"It is a very colourful town," said Sepos. "The markets have thatched roofs with goats grazing atop; there is a world parrot refuge and much more. The shopping is worth stopping for."
Cameron Lake, Cathedral Grove and Qualicul Falls are stunning must-see features of the area. Cathedral Grove is renowned for its majestic 800-year-old trees.