Down to a science
Carol and Gary Mathers have spent 18 years as full-time RVers and have crossed the continent several times
by Kali Love —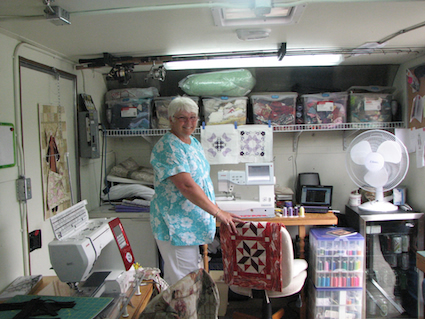 Carol and Gary Mathers are not your average couple. For starters, they met when Gary and his friend decided to crash a school dance in Ontario—not your most romantic encounter, but that didn't stop love from blossoming. They quickly became high school sweethearts and have been married for 43 years and counting.
After high school, the couple moved to Sylvan Lake, Alberta, where they raised their two sons. Both Carol and Gary had successful careers—Carol worked as a sales manager for Sears in Red Deer, Alberta, and Gary was a branch manager for Johnson Controls. In 1988, after their children had graduated from high school and were busy doing their own thing, the Matherses sold their home and hit the road in an RV. And from 1988 to 2001, they full-timed in B.C., the United States, Mexico and Central America.
"The first 13 years that we travelled, we spent most of our winters in Mexico or Central America," said Carol. "We have travelled to the Panama Canal twice and beyond with our RV. The first time we (went that far south) we took a 34-foot Class A down, and the second time we took a pickup truck and a 26-foot fifth wheel. We just dropped it off wherever was convenient and went and toured, which was nicer than taking the motorhome. Our little fifth wheel was perfect in that it gave us so much freedom to run around."
On a whim
In 2001, the Matherses stumbled upon an RV park in Oliver, B.C., and thought that it was quite lovely—so they decided to purchase it. For the next three and a half years they owned and managed their own RV park, but when a random person pulled off the highway to ask if the RV park was for sale, the couple said "sure," and sold it.
Towing your home does have advantages
After selling the RV park, the Matherses bought a house, renovated it and put in a quilting studio for Carol. However, it wasn't long before they both realized that they were happier when they were on the road.
"We would rather live in a motorhome than in a house," said Gary. "It is just more comfortable and we don't need the extra space. After we sold the (RV park) in Oliver, we bought a house and lived there for three years until we looked at each other and said, 'Why are we doing this? We don't like it. We'd rather be back on the road.' So away we went again."
Giving full-timing a second chance
It didn't take the RVing couple too long to slip back into the retirement lifestyle again. Now travelling in a 42-foot Beaver diesel pusher RV, they have the RVing lifestyle mastered.
"We spend spring and fall in B.C., particularly in Oliver," said Carol. "We winter on the Arizona-California border along the Colorado River—so Gary can fish and I can sew—and we spend the summertime in Lavenham, Manitoba. We actually bought an old church in Lavenham and fixed it up into a sewing studio for me. When we travel, we tow a 20-foot car hauler behind the motorhome and that becomes my sewing room when the car backs out. We have it down to a science after all of these years."
Lifetime hobbies
Carol has always enjoyed working with her hands and she discovered she has a knack for quilting. She said that when their children were small, she experimented with embroidery, counter-cross-stitch and beading, but quilting was the skill that Carol really developed. Now, Carol has three sewing machines set up in their RV and she has made and given away 70 large quilts to date.
"I have probably only sold six of my quilts, but I have given away 70 big quilts to family and friends," said Carol. "It just seems to be that I have these quilts that have to be made and whoever happens to be there and says, 'I like that one,' may end up getting it. It started out with me making them for the kids and then the grandkids. And I make them if someone has a need—I made a special one for a girl who had a double mastectomy. There always seems to be a need for them. My husband says it is cheaper than a golf membership."
Also cheaper than golfing is fishing, which is Gary's favourite pastime. The main reason that the Matherses head south to the Colorado River is so that Gary can fish. On top of their RV, the couple carry a 12-foot aluminum boat and an inflatable kayak. On their way west this year, Gary has a fishing trip planned in Saskatchewan before they settle back in Oliver for a bit.
"When we leave Manitoba, we are going up to Big River, Saskatchewan," said Gary. "There is a nice lake up there and I met a fellow in Big River, California, who owns a place up there and I am going up there to go fishing for a week or 10 days. Then we will slowly make our way to Oliver and sit there until mid-November and then head south."
Mixing it up
This winter, the Matherses plan to travel to El Golfo, Mexico, for a bit and spend a couple of weeks in Puerto Penasco and then set up in Parker, Arizona, for the remainder of the winter. These adventurous full-timers pride themselves on having travelled as far north as Inuvik—a town in the Northwest Territories that at times has only air access—and 370 kilometres south of the Panama Canal, where the road ends before entering South America. They have also travelled across every major road in Mexico and Central America in their RV.
For such a well-travelled couple, one might think that they would have a hard time picking a favourite destination, but the couple were quick to answer that Chetumal in southeastern Mexico on the border with Belize is their top pick.
"There is a little RV park that is right on a peninsula on the Caribbean and the water is crystal clear," said Gary. "We just had a good time there and we have been back several times. There are some neat Mayan ruins that aren't too well discovered and you can go in quite easily to Belize from there. We have also been to every major ruin in Mexico and Central America."