Niland is a quirky California gem
It may be a small community, but Niland is bursting with creative energy and passionate people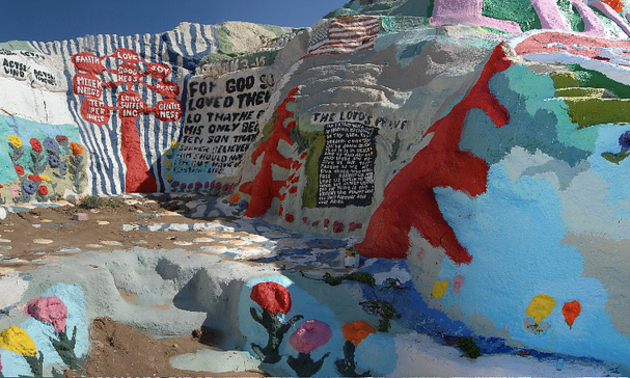 Niland is an interesting place, and one well worth visiting during snowbird season. There are numerous things to see and do in the area, but these are a few of our favourites.
Salvation Mountain
Anyone visiting Niland will want to make a stop at Salvation Mountain. This artistic creation is the work of the late Leonard Knight, a famous local artist who used local adobe clay to create a massive sculpture. Measuring 15 metres (50 feet) tall and 46 metres (150 feet) wide, Salvation Mountain is brightly painted and adorned with positive messages reflecting Knight's Christian faith. This project was a work in progress over the course of many years, and there are even rooms and structures built within the mountain. Knight is remembered fondly by his community, and visitors still come to see his work and pay their respects.
Fountain of Youth Spa RV Resort
RVing in Niland is a treat when you stay at the Fountain of Youth Spa RV Resort. Loaded with amenities and luxuries, this resort is a snowbird's dream come true. It has been family-owned and -run for three generations, delighting annual visitors for more than 50 years. Tailored to the active adult community, Fountain of Youth offers an array of activities, such as arts and crafts, Bocce, bingo for cash prizes, yoga, pickle ball, radio-controlled aircraft flying and so much more.
Salton Sea State Recreation Area
The
Salton Sea State Recreation Area
is a 30-minute drive from Niland, and it's a great place for a day trip or camping excursion. Spend an afternoon birdwatching, picnicking, fishing and hiking for a day-use fee of seven dollars (five dollars for seniors).
You can also camp at the park, provided that your RV unit is under their 35-foot maximum. Depending on which campsite you choose and whether you want full hook-ups, the cost varies between $20 and $30 per night. It costs five dollars to use the boat launch, and the extra vehicle fee is seven dollars. All in all, it's an affordable way to visit one of the largest inland seas in the world. It is suggested that you visit this location between October and May, as the temperatures are milder and more pleasant for outdoor enthusiasts.