Taos Pueblo, New Mexico
The Tiwa maintain a balance between the traditional and the modern world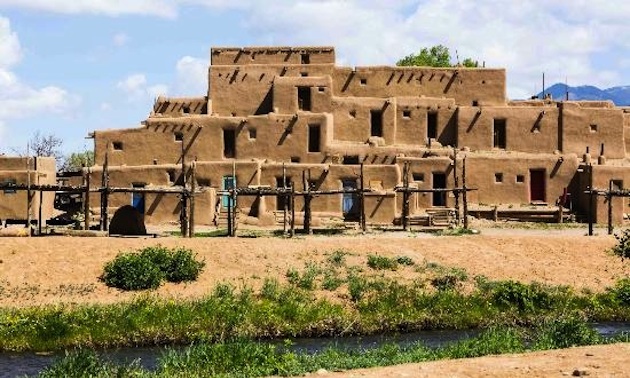 Pueblo de Taos is a National Historic Landmark and a UNESCO World Heritage Site located 65 miles north of Santa Fe at an elevation of 6,969 feet (2,124 metres), with the Sangre de Cristo Mountains in the background. This nearly 1,000-year-old site is located about a mile from the city of Taos, New Mexico, and is open daily for tours.
Pueblo de Taos means the place or village of the red willows and describes the vegetation in the creek that passes through the village. The homes are multi-storied reddish brown adobe buildings that have been occupied for 900 years.
Living here full time are 150 Northern Tiwa. The tribe is very traditional, even preferring to communicate in their own language. The members, elders and tribal council try to keep a balance between the traditional and the modern world. Over centuries the Tiwa have resisted the Spanish, other tribes like the Apache and of course the Americans. In 1680, Taos was involved in the Pueblo Revolt that drove the Spanish out of New Mexico for 12 years, and it seems that resilience continues against the modern world.
In 1540 when Spanish explorer Hernando de Alvarado visited Taos, he described the houses as "very close together with five or six stories. The homes become narrow as they rise, with the roofs of each level providing the floors and terraces for those above."
Traditionally ladders were used to reach the top houses, with entry through a hole in the ceiling. Over the years, windows, doors and staircases reflecting Spanish and American architectural design have been added, but there's no electricity, running water or indoor plumbing.
Aboriginal people have lived here since construction is believed to have started around 1150 AD. This makes Taos the oldest continuously inhabited community and the largest multi-storied pueblo structure in the United States.
The nearby city of Taos has become famous for its art community and galleries. Major tourist sites in the area include the Harwood Museum of Art, the Kit Carson home and museum, Martinez Hacienda, the ruins of San Geronimo Mission and the San Francisco de Asis church.