Horsin' around
Take a carriage tour of Nakusp and get a taste of history
by Glynis Fediuk —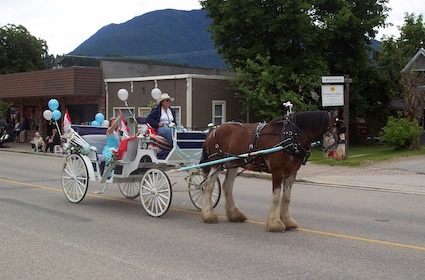 Nakusp has a rich and varied heritage. During the early 1900s, this community buzzed with economic development and was an important stop on shipping routes during the gold rush era.
Visitors can get a taste of Nakusp's history via a means used by pioneers themselves. Mountain Valley Farms takes visitors on hour-long historical carriage tours, pulled by mighty Clydesdale horses. The tours take riders throughout town, including Main Street, where many of the original buildings from the 1920s still exist.
Contact Mountain Valley Farms at 250-265-8265.