Weaving wonderful tales
Literary Luminaries, an annual event, gathers authors to share their writing as a way to wrap up Nanaimo's Historical Week
by Lisa Crane —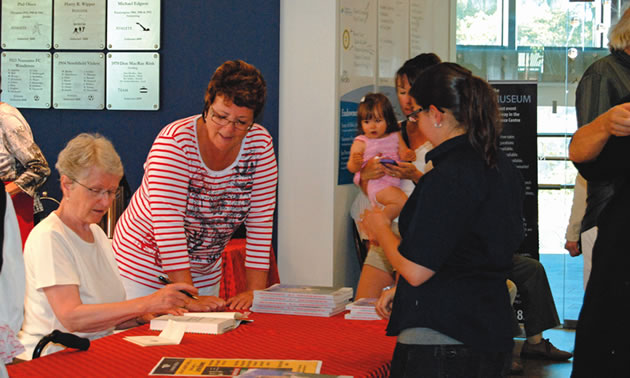 The annual Literary Luminaries event is held at the Nanaimo Museum to celebrate National Heritage Week. In 2012, it will take place over two days beginning February 24.
Debbie Trueman, the general manager of the museum, has worked there since 1989 and has known some of the authors involved.
"This year we will have some returning and some new authors," said Trueman. "We have to 'spread the wealth' to cover the number of local author. This will be the third annual event."
Literary wonders
Trueman said that the museum is very fortunate to have many of the authors as members and donors.
"For example, Lynne Bowen, who co-published a reprint of Boss Whistle with the museum, shares the profits," said Trueman. "And Jan Peterson donated her last book and all profits to the museum."
Last year's Literary Luminaries involved 12 local authors who gave presentations about their books and were available for signings and questions. Their books encompass a wide range of subjects, including the history of Nanaimo and Vancouver Island, historical fiction, westerns, children's and teen books, wildlife humour and Yukon memoirs.
Literary wandering
Nanaimo is worth a literary wander. Truman said she loves to read and there are three excellent used book stores on Nanaimo's main street, one of which supports Literacy Vancouver Island.
Trueman said Nanaimo's downtown has gone through a long cycle and is finally back to being a vibrant, attractive downtown with unique shopping (besides books).
The museum is housed in the Vancouver Island Conference Centre and is the guardian of the Bastion, a former Hudson's Bay Co. 1853 outpost. The museum is home to The Snunéymuxw exhibit, the Sports Hall of Fame, Timber!, The Harbour and The Bastion Era exhibits. There are always feature exhibits.