Vancouver Island's hub city
Nanaimo offers the amenities and atmosphere for a comfortable stay—or a great place to call home base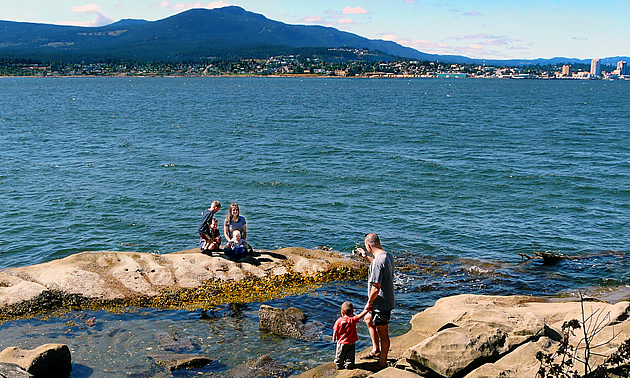 Nanaimo, known as the "Harbour City," is a fantastic place to enjoy the ocean, trails and endless day trips around Vancouver Island. The city of 88,000 is a welcoming, laid-back place, centrally located for complete accessibility from Vancouver and other surrounding areas.
Waterfront and Swy-a-Lana Lagoon Park
True to its namesake, the city's harbourfront boasts a paved walkway for foot and bike traffic along the beautiful mooring harbour—past souvenir, ice cream and snack shops, and on to Swy-a-Lana Lagoon where families enjoy swimming and relaxing on the beach.
You can embark on adventures in kayaking, sailing and scuba diving thanks to calm, protected waters along the passages between the Gulf Islands. Rent kayaks, take a scuba lesson or sit and watch the fun from one of many outdoor patios on the causeway.
Walking tours
The harbourfront connects with the vibrant downtown, where shops, restaurants and a lively arts district offer activities almost every day of the year. The Bastion—the world's only remaining free-standing Hudson's Bay Company bastion—is one of many stops on the two-hour walking tour of the downtown architecture, history and First Nations landmarks hosted by Tracks Outdoor Adventures. With low to moderate difficulty and small or large group reservations, the tours are a good fit for anyone who wants to see the sites that put Nanaimo on the map and get a little exercise at the same time.
Hiking trails
Neck Point Park, Jack Point Briggs Park and Linley Valley all come highly recommended for excellent oceanside hiking by Scott Littlejohn, marketing co-ordinator for Living Forest Campground and RV Park.
"A close runner-up is the Cable Bay trail in Cedar to Dodd Narrows," said Littlejohn. "To be able to sit on the shore at Dodd Narrows and watch the ocean turn into a fast and wild river with tidal rips up to 7.5 knots is pretty exciting."
The local tourism office has maps and trail information for each stop.
Newcastle Island
A ten-minute ferry ride from Swy-a-Lana Park takes visitors to Newcastle Island—home of tide-swept sandy and sandstone beaches, an extensive trail system and lovely views from almost anywhere on the park's 7.5-kilometre perimeter.
Newcastle Island is also a favourite spot for beginner's kayaking adventures, which can take you around it and other nearby islands. Gabriola Island and Protection Island are the closest and it is common to see the protected harbour waters and Newcastle Channel dotted with kayaks in all seasons.
Wild play
For lovers of extreme adventures, Wild Play Element Parks is the place to be to explore some of Nanaimo's most beautiful scenery—from a wildly different perspective. The park offers bungee jumping, two unbelievable ziplines, and the King Swing, which takes you over the Nanaimo River Canyon. For participants of various agility and skill levels, the Monkido obstacle course in the trees is the ultimate adventure. Participants move among a series of progressively challenging games and obstacles that are between six and 60 feet in the air. Ground access on each obstacle means players can progress further or end the adventure at any moment. Afterward you can call it a day and lounge on the relaxing patio overlooking the canyon.
Horne Lake Caves
Voted the Best Natural Outdoor Site in British Columbia, the Horne Lake Caves are a must-see wonder of nature just 30 minutes north of Nanaimo. Some of the crystal and cave formations are thousands of years old and unlike anything you've seen elsewhere. Guided tours are available for the main Riverbend Cave, and two other less rigorous caves are available to explore at your leisure.
Cathedral Grove
A visit to Vancouver Island isn't complete without a quiet stroll through the majestic and pristine rainforest in Cathedral Grove, approximately 45 minutes from Nanaimo. Some of the Island's largest trees exist here, with extensive walking paths and interpretive centres along the way. A stop at Coombs Market on the way back to Nanaimo for a delicious lunch, quaint shops and the world famous Goats on the Roof makes for a perfect day trip to the Central Island.
Mount Washington
An hour from Nanaimo is Mount Washington Alpine Resort in the Courtenay/Comox region. The hill here boasted the deepest snow base in Canada last year and never disappoints ski enthusiasts from around the world. Dozens of runs for all experience levels and a picturesque village with chalets and condos that can be rented for longer stays, make this a one-stop, must-see destination for the wild at heart.