Taste the Island's best
What's on Nanaimo's menu? Find out at this festival
by Glynis Fediuk —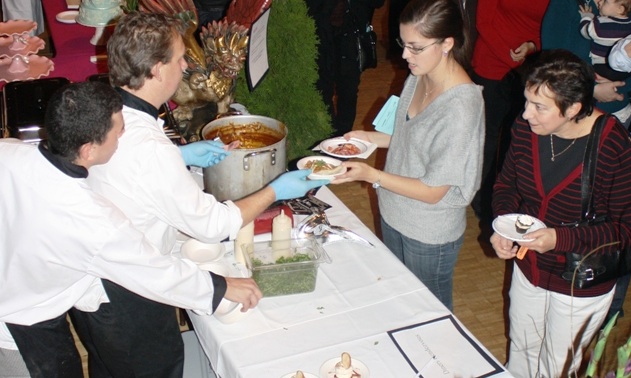 Bite of Nanaimo sells out every year, and it's easy to see why. The festival brings together a wide variety of food industry insiders, from bakeries to breweries and more, to present their offerings—"bites"—to crowds of food aficionados. Attendees then vote for the best displays in a variety of categories, from best appetizer to best hospitality.
The festival is a fundraiser for TheatreOne, a professional theatre company in Nanaimo. Nadine Wiepning, the publicity and marketing director for TheatreOne, said that there is a growing number of festival-goers who are interested in foods with a regional flair. Bite of Nanaimo introduced a new category of award—the best use of locally sourced ingredients—last year.
"There are restaurants that serve local specialties and try to serve in-season foods, (including) seafood, fish and meats that are raised on the Island, or at least in B.C.," said Wiepning. "There is a great interest in the local food, and people are comfortable with what it means and getting more comfortable with sourcing local foods."
What is there to taste at Bite of Nanaimo? The offerings range from vegetarian grub to mini-burgers, and Wiepning said that the desserts made in the Vancouver Island University's baking program are anticipated every year. While the restaurants may be interested in the competitive aspect of Bite of Nanaimo, the festival-goers are generally there to enjoy a feast. The event reflects the variety found in the Nanaimo food scene.
We have some really good restaurants here," said Wiepning. "We have some authentic Thai places, and then we have the local bistros serving really nice foods. We have all flavours."
Bite of Nanaimo takes place on October 21, 2011, at the Beban Park Auditorium. Entry tickets are available in advance only and additional tickets are purchased to sample the foods.