The festivals and flavours of Merritt, B.C.
There's more to this city than country music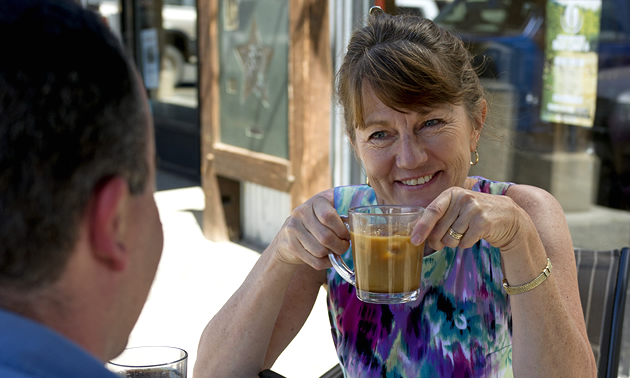 Halfway between Kelowna and Kamloops, Merritt, B.C., is a busy city. It was once known as Forksdale, which might be why there are so many opportunities to taste the local food and flavours during your time here. Whatever you're in the mood for, Merritt has got it (and it's accompanied by some gorgeous scenic vistas and rodeos to boot). Merritt is so much more than the Country Music Capital of Canada. Here are some of our favourite flavours of Merritt, B.C.
The weekly adventures
Brambles Bakery and Cafe is open Monday to Saturday and serves up local treats. It specializes in cakes, loaves, poke, sandwiches and sticky buns. Local musicians can sometimes find a stage here, so keep an eye out for when you might get "dinner and a show."
Coldwater Corner Market is family-owned. More than the average convenience store, Coldwater sells movie theatre-style popcorn, frozen yogurt, locally made jewelry and gifts. This is where the locals go to get their treats, so visitors should take note.
Left Field Cider Company produces locally made English-style apple cider. It bottles its product in Mamette (just outside Merritt) and offers two regular varieties of cider: dry and little dry. Both types are made from Okanagan Valley dessert apples. The tasting rooms are open every weekend, so be sure to stop by if you're in the area.
Merritt Summer Nights Market runs Friday nights from 6 to 9 p.m. The market season usually starts in the beginning of June and carries on until mid-September. Local businesses, food trucks and artisans make this market and the Nicola Valley Farmers Market their weekly haunts. Old car shows and children's games are also ever present. Merritt's markets are about as local as it gets for flavours and experiences. The Nicola Market runs Saturday mornings May to October from 9:30 a.m. to 1 p.m., and on Fridays from 6 p.m. to 9 p.m. downtown until September. Both markets provide the community with a chance to buy local and keep the community commerce thriving while supporting the movement to go green.
The festivals
Nicola Valley Fall Fair usually takes place in the first week of September. The fair includes games and activities for all ages, comfort-food trucks, a petting zoo and the Nicola Valley Rodeo. The weekend also comes with the Harvest Moon Dance on the evening of September 2. Visitors can leave the market area with confections, trinkets and gifts for loved ones (or for themselves).
Merritt Community Carnival on Granite Avenue happens during the second week of August. This event features live entertainment, food trucks, local vendors and games for all ages. This is another chance for the community and visitors to come together to celebrate all that Merritt has to offer (and what makes it so great).
Rockin River Music Festival is perhaps what Merritt is best known for. This festival's usual turnout is in the hundreds of thousands and has a varied blend of gourmet food vendors on site, offering everything from barbeque to Merritt's own First Nations' food. The music festival has featured high-profile artists like Lady Antebellum and Willie Nelson.
To learn more about what gives this place merit, visit the Tourism Merritt website.