Napier Backroadz Truck Tent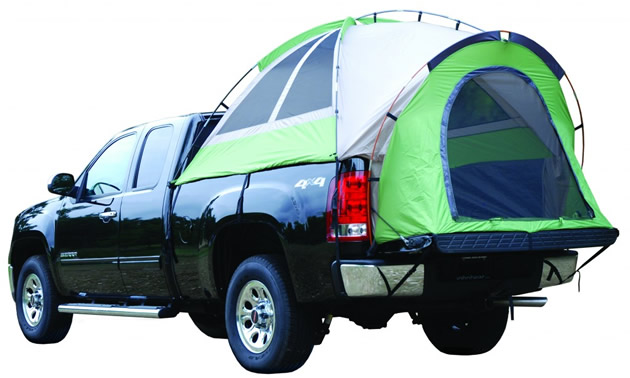 Napier Outdoors is proud to present their new Backroadz 13 Series Truck Tents, a value-priced line created with every consumer in mind. For the cost of one night in a hotel room, you can now own a Backroadz 13 Series Truck Tent.
Why camp in an ordinary ground tent or an expensive RV when you can camp right in the back of your truck? The Backroadz Truck Tent assembles in the back of your open-bed pickup truck, creating a comfortable, restful sleeping area for two people wherever your vehicle can take you. It features over 5.5' of headroom and a patented sewn-in floor so you don't have to worry about cleaning out your truck bed prior to use.
The Backroadz 13 Series Truck Tent comes in four models to fit the most popular trucks on the market. The tents come with a durable rainfly to keep you dry even in stormy weather. Other features include a large entrance located at the tailgate of your truck, four large windows for optimal ventilation, and shock-corded fiberglass poles for easy set up.
The Backroadz 13 Series Truck Tent packs into a new expandable, lightweight carrying bag so you can take it with you wherever you go. Store it behind your seat for any unexpected adventure! Perfect for fishing, hunting, off-road adventures, tailgating and family camping.
Additionally, with every purchase of a Backroadz 13 Series Truck Tent, Napier Outdoors will donate one tree to be planted through our partner, Trees for the Future. Trees for the Future helps communities around the world plant trees through seed distribution, agroforesty training and in-country technical assistance. It has empowered rural groups to restore tree cover to their lands, protect the environment and help preserve traditional livelihoods and cultures for generations.