Moose on the loose near Devon, Alberta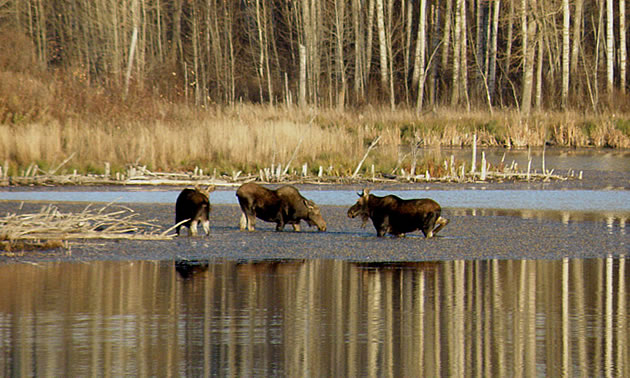 Wildlife photography calls for technical skill as well as the good fortune of being in the right place at the right time. Backcountry guide and photographer Wayne Millar, who has been doing tours and photography for 14 years in the areas near Sherwood Park, Alberta, said the whole idea with wildlife photography is to have the right opportunity.
"I've seen people with cameras smaller than half a cigarette box come out with amazing shots, and I don't think it's their skill, it's about being in the right spot at the right time," said Millar.
After discovering the opportunity to become a guide in B.C. in 1994, Millar moved to Alberta in 1997 and spent four years exploring the parks, so that he can now "hike them blindfolded." He launched his small backcountry tour company, Watchable Wildlife Tours Group, in 2001, and spends most of his time guiding customers through the Beaver Hills area, which includes Elk Island National Park and the Cooking Lake-Blackfoot recreation area, about a 20 minute drive from Sherwood Park.
Millar said that Elk Island National Park has "the big six"—plains bison, wood bison, moose, elk, whitetail deer and mule deer—and that the sheer number of mammals per square metre of land increases the odds of going home with a great wildlife shot.
"Especially in Elk Island, the majority of animals are fairly used to seeing vehicles and people, so it makes photography that much easier," he said. "However, they're still wild animals. You don't stress them out, you don't annoy them, and for sure you don't become a threat. You maintain a respectful distance."
Millar said that the best odds of enjoying a wildlife sighting from a safe distance are at dawn and dusk, so being familiar with your camera settings is an important way to prepare for a photo tour of the area. He also said that choosing the camera itself comes more into play.
"I use an Olympus T-57OC," he said. "It's got a telephoto lens, but it's small enough that it's very easy to carry when you're hiking. That's the trade-off. A lot of the professional photographers or the serious amateurs tend to be very heavy in equipment, which is good if you're going to be getting commercial-grade photos. But if you're going to be hiking 10 kilometres in the backcountry, you're going to have to give up on something."
While Millar estimates he has seen over 500 moose, he's still excited every time he spots one.
"I'm not only seeing another moose, but I get to see the moose through your eyes for the first time. That makes a big, big difference. It's just amazing to watch the look on people's faces. It's something you never really get tired of. Certainly I haven't."