Partying at The Desert Bar in Arizona's Buckskin Mountains
An old mine site has been transformed into a destination for thirsty desert dwellers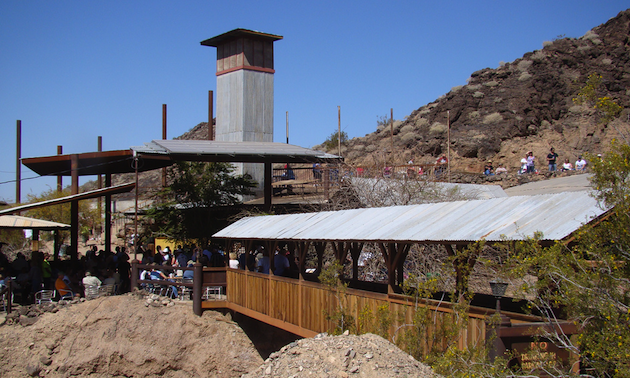 What would possess 200 people to drive to an old mine site in the Buckskin Mountains, drink beer and eat a plain hamburger? The answer is The Desert Bar at the location of the old Nellie E copper mine. My sister convinced me to turn off Highway 95 onto the Cienega Springs Road, five miles south of Parker, Arizona. The road is dusty, hilly, winding and rough. No wonder my sister wanted me to drive!
When we arrived at noon, the parking lot had no less than 98 cars—I counted. The bar was open and the burgers were on the grill. There was a sign that said Absolutely No Cheese Ever. That also means no tomatoes, lettuce or bacon. Despite the plain hamburgers, the atmosphere was electric. It felt as if I was in one of those beer commercials.
In talking to the employees, they felt a good day drew 300 to 400 people. Due to the volume of patrons, there are other options for food from the Two Guys Catering Company. Keep in mind that The Desert Bar is only open on weekends from noon until sunset, closed for the summer months and opens only one night of the year, on New Year's Eve—if that holiday falls on a weekend.
So, how did this bar came about? In 1983 Ken Coughlin opened his bar in the desert after acquiring the old mine site. Every year Coughlin has added to his bar, including a covered bridge walkway in 1991, a horseshoe pit, a stage for a band, outdoor eating areas and even a helicopter offering rides.
In constructing his bar, Coughlin used available material from the mine and other novel recycling ideas. The inside of the Nellie E Saloon is unique. The windows are old glass refrigerator doors, the top of the bar is brass, the bar stools are steel and the ceiling is made of stamped tin. The bar is built around rock outcroppings, providing a beautiful view of the valley. The entire operation is run by solar power, with water coming from a well 350 feet deep. Those tall chimney-looking features are cooling towers, which act like air conditioners.
If you are feeling guilty about drinking on a Sunday, you can attend church. The church is located in the parking lot; it is approximately eight feet by 20 feet, open at both ends and appears more like the front on a movie set. Built in 1996, it is constructed of steel, copper, stamped tin and bricks on the floor. There are no religious services, although the church has been used for weddings. My wife promptly named it the 'In-N-Out' church, like the burger chain.
On leaving The Desert Bar, I was reminded of the Irish Rovers song Wasn't That a Party. You may dislike getting there, but you will love the atmosphere. This was an experience that made for a fun and memorable afternoon.